In 2019 I was working as a tour guide, hiking on weekends and taking trekking and snowboarding holidays overseas. I was also planning on starting a family. You can still adventure as a mum, right? 
Well, my pregnancy slowed me down a little. Then COVID brought travel and work to a grinding halt. Then along came our son – and we couldn't wait to take him on adventures with us! What would be a good age to take him trekking in the Himalayas? Maybe it's best to wait until he can walk? 
It didn't take long for reality to hit. For months I was a milk-loaded, sleep-deprived zombie, just trying to function day-to-day. Nevermind booking a snow trip to Japan, I could barely find the time to shower.  
With the help of my partner, I found ways to cope. I needed to get back to the things I loved, even in some small way. A large part of doing this was realising what those things had meant to me. Hiking, guiding and travelling were my ways of connecting with people and with nature. They were also a way to challenge myself and get out of my comfort zone. 
I could still do all of this – but on a smaller, more child-friendly scale. Here's how I bring adventure into my life as a full-time mum.
Connecting with nature
Part of the reason I quit a 9-5 job to be a tour guide was to escape the office. I was sick of sitting in meetings all day while the sun was shining outside. Guiding allowed me to visit beautiful destinations across Victoria and spend my workdays outside in nature. 
This is something I can so easily do with my son. Whether I'm walking the local trail or exploring a nearby beach, it's the fresh air and open spaces that I'm craving. I've realised adventure doesn't need to be an overseas trip with months of planning and a backpack full of gear. Just exploring a new trail or heading out for a picnic can give me the daily dose of nature I'm after. I've also learnt to appreciate the incredible natural spaces that we have in our local area, and it's something I can share with my son as he grows up.
Connecting with people 
Hiking and overseas travel brought my partner and I closer together. Our best conversations are had outdoors on the move, and we miss the excitement of exploring a new destination. Until we can travel and trek again, we are doing it on a smaller scale. 
We take our son on short hikes – we load him in the backpack with a spare nappy, plenty of snacks and head out on a trail. It might not be an overnight hike, or a trekking trip, but it's enough to satisfy the appetite and it's a great workout too. It also turns out that having a child is a great conversation starter. There's no shortage of other parents to connect with and it's been great to find a network of mums who have the same interests as me.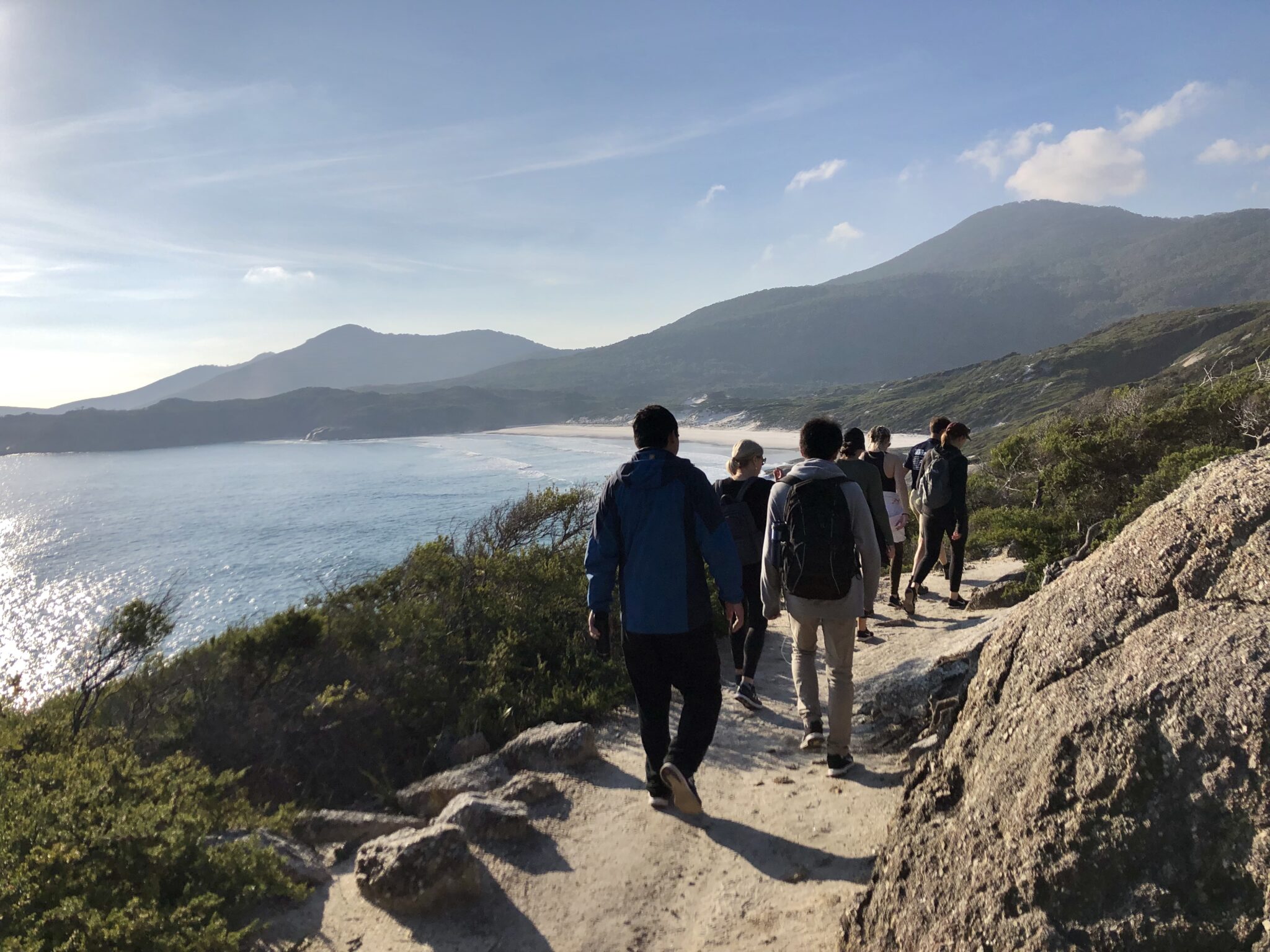 Challenging myself
I've always noticed the most personal growth when I've taken on challenges. From changing careers to travelling solo overseas, it's all made me a stronger, more confident person. I wasn't sure how much I'd be willing to push myself as a new mum – but I didn't need to look too much further than my local beaches for a new challenge. 
I've taken up surfing. Okay, I've owned a surfboard for 20 years, but I'm just now starting to improve my surfing. With my partner watching our son, I head out and catch some waves a few times a week. I didn't realise how much I'd love my new hobby until I found myself constantly checking the surf forecast! It's been a great way to push myself physically and it provides a real mental boost as well. Time for myself, out in the ocean, is now a vital part of my week.
Realising being a mum IS an adventure
I like to challenge myself, try new things and get out of my comfort zone. Hello? By becoming a first-time parent – I was doing all of these things! I still am. Every day is a challenge, and every day there is something new to learn. Putting in perspective how special this time with our son is, I don't miss my old adventures as much as I thought I would. I know that I can get back to them at some point in the future. In the meantime it's been a nice journey to reflect on the things that I want most out of life – and work out how to achieve them as a mum. 
Also though… about having your own mum adventures, you'll love this blog: From A Daughter To All Mothers: You Have Permission To Adventure.