If you ask people what hiking is, you might get one of two answers. 
Hiking is really just walking, but with more bush, more hills and more mud.  
Hiking is an outdoor activity that involves walking a long way in the wilderness, magic moments, getting lost, being cold and hungry, avoiding snakes and spiders, carrying heavy backpacks, sleeping under the stars and buying gear that costs more than the GDP of a small nation.
We think the answer is somewhere in the middle. A hike could be a challenging multi-month adventure that crosses multiple continents, or it could be a one-hour walk through a suburban nature reserve. The activity is the same – put one foot in front of the other, marvel at beautiful landscapes, reconnect with the wild – but the scale is different. 
The point is, if you're just starting out with hiking, there's no need to make it a massive undertaking. If you can walk, you can hike. But there are a few things to learn before you get started to make your first hike fun, fabulous and, most importantly, safe. 
Decide Where You Want To Hike
Start by thinking about what kind of experience you want to have. Do you want something local or are you happy to drive? Do you want a coastal adventure or would you prefer a lush rainforest, dripping with dew. Are you keen to summit a peak or do you prefer flat, even terrain? Do you want to start with a short, easy hike that requires little preparation and basic fitness or do you want the hiking adventure of your dreams where you'll need planning, research and a high level of strength and endurance? Do you want to go with a guided group or are you happy to walk solo? 
Answering these questions can help you narrow down your options and find something that suits you best. Do a quick Google, or ask friends and our Wild Women Community for recommendations. 
Once you've got a hike in mind, you can begin to prepare for it. 
Fit It To Your Fitness
If you are completely sedentary, we recommend you start by walking 30–60 minutes on a flat surface and build up from there. 
If you're comfortable walking more than 5km already, choose a 2–3 hour beginners' hike. It might be a bit of a challenge, but you've got this! 
And if you're a big-hairy-audacious-goal-kinda-gal who can already smash out 10km or 20km, jump straight into a big, exciting, bucket-list hike. You'll need to go for some serious full-day hikes with a backpack and do interval training on hills and stairs. 
Get Your Gear Organised
There's no need to go and buy heaps of gear when you first get started. A short local hike can be done in a pair of joggers, a t-shirt and shorts and a borrowed backpack. Once you've fallen in love with hiking, then you can build your kit up slowly, splurging on things that matter and scrimping on things that don't. 
However, there are a few things you need before you start. 
Firstly, shoes. Your old runners probably aren't going to cut it for long! You can borrow most other stuff, but well-fitting shoes or boots with ankle support and good tread will help prevent grumbling, blisters and sprained ankles. You can read our full shoe guide here. 
You also need good quality socks if you're out for more than a couple of hours. This is the place to splurge. Buy good quality, merino wool socks (we like Icebreaker) that cover your ankle. They'll fit firmly, give added cushioning and help prevent blisters. Plus, they feel fabulous!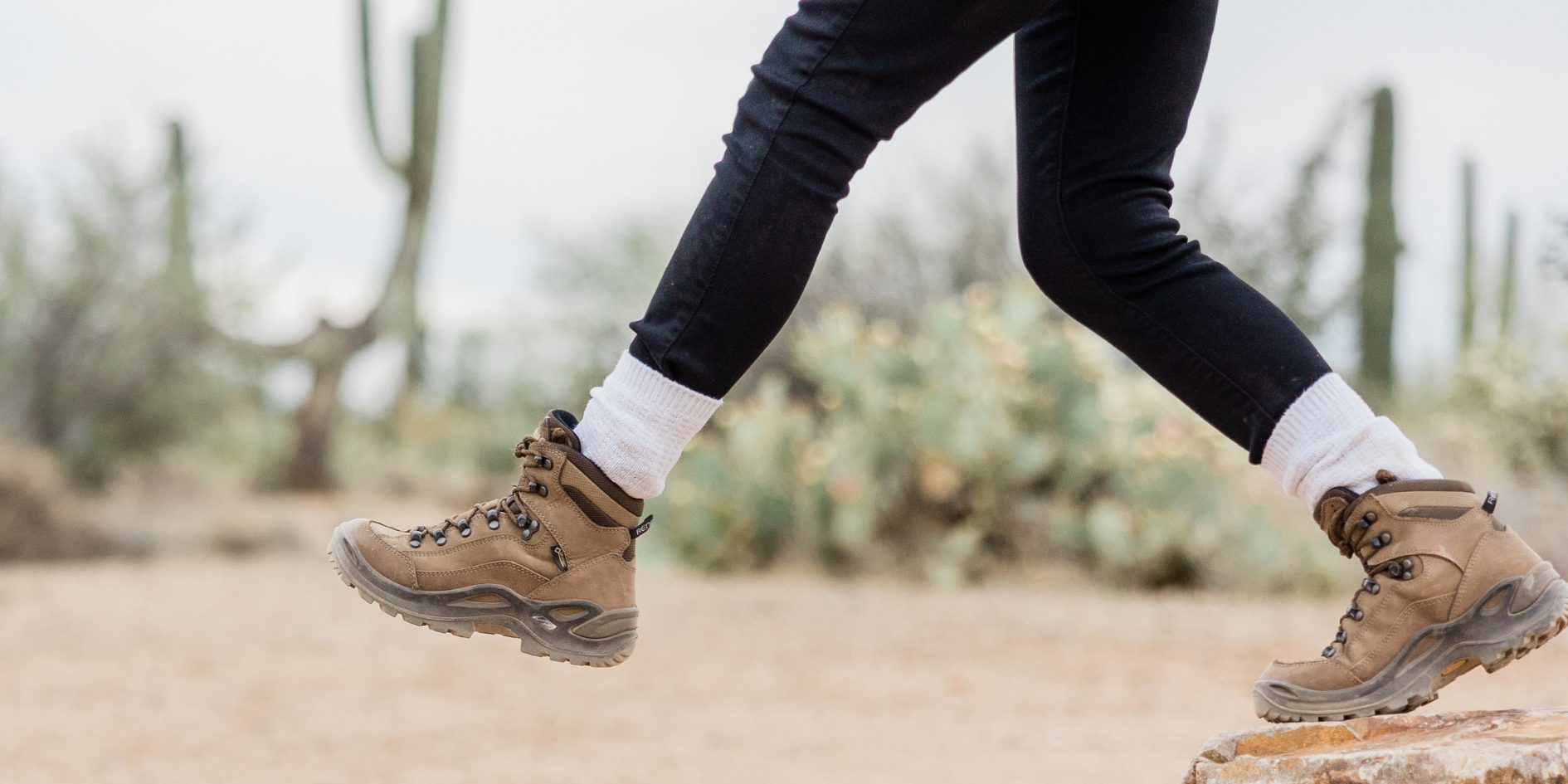 For comfort and function in the clothes department, you can wear leggings or exercise shorts, and a t-shirt. If you sweat a lot, go for a "wicking" fabric that draws sweat away from your skin. If your thighs kiss each other, this can cause chafing over a long distance, so choose loose-fitting shorts or pants and don't forget the anti-chafe balm. You might also need warm layers like a fleece or jacket, and don't forget a hat and/or a raincoat depending on the weather. 
Down the track, you might want to invest in a good-quality, breathable raincoat and professionally fitted backpack, but that can wait until you really get the bug or sign up for a bucket-list hiking adventure. Same goes for trekking poles, gaiters, a windproof jacket, buff, down jacket, fleece pants and any other specialised equipment.  
If you decide on a night hiking adventure, you can use your smart phone or a hand torch to light the way, but a head torch is much safer and hands free. 
For a comprehensive guide to hiking gear, check out our blog. 
Check The Weather
Willy Weather has a great app that tells you lots of things about the weather, including temperature, wind direction and strength, tides, swell, rainfall, sun and moon rise and set. It also links you straight to the Bureau of Meteorology so you can see the satellite image of what's ahead. This information can help you plan your clothing and gear, as well as keeping you safe.  
Don't hike in electrical storms or severe wind and seek shelter if you get caught out. Hiking in the rain is great fun if you have the right gear but if not, it can be anything from uncomfortable to downright dangerous. 
Extreme heat can become a first-aid emergency quite suddenly, so you'll need to take extra precautions if the forecast is over 30 degrees. Choose a shady trail, ensure you have plenty of water, snack regularly and avoid the middle of the day. 
Take Only Photographs, Leave Only Footprints
Don't take stuff off the trail unless it's rubbish. And don't leave stuff on the trail… goes without saying! 
Tell Someone Where You Are Going
If you are heading out anywhere in the bush, even if it's not super remote, it's easy to get lost, especially if you're talkative. Always stay on marked trails and tell someone where you will be going. Please don't rely on your phone to keep you safe… sometimes batteries run flat or reception is sparse! 
It might seem like a lot of information, but don't let it overwhelm you! At the end of the day, a hike is really a walk in the woods, with a few extra bits of gear. 
It's magic to walk in untouched places, connecting with the natural world and your own body and mind. So lace up those boots and get hiking!