Once you've been hiking at Wilsons Promontory National Park in Victoria, it's normal to find yourself daydreaming of the turquoise ocean, uncrowded beaches and sandy campsites. With so much potential for adventure, we've written up a guide to hiking Wilsons Promontory so you can plan your visit to this natural paradise.
Just 3 hours drive from Melbourne, Wilsons Promontory is an excellent weekend destination. There's inspiring day hikes along the rocky coast, through rainforest and wetlands, and to mountain summits for panoramic views. Or you can load up your backpack and adventure off-the-grid to amazing beach campsites. Either way you'll be fueling your soul with a good dose of nature and locking in your daydreams for months to come.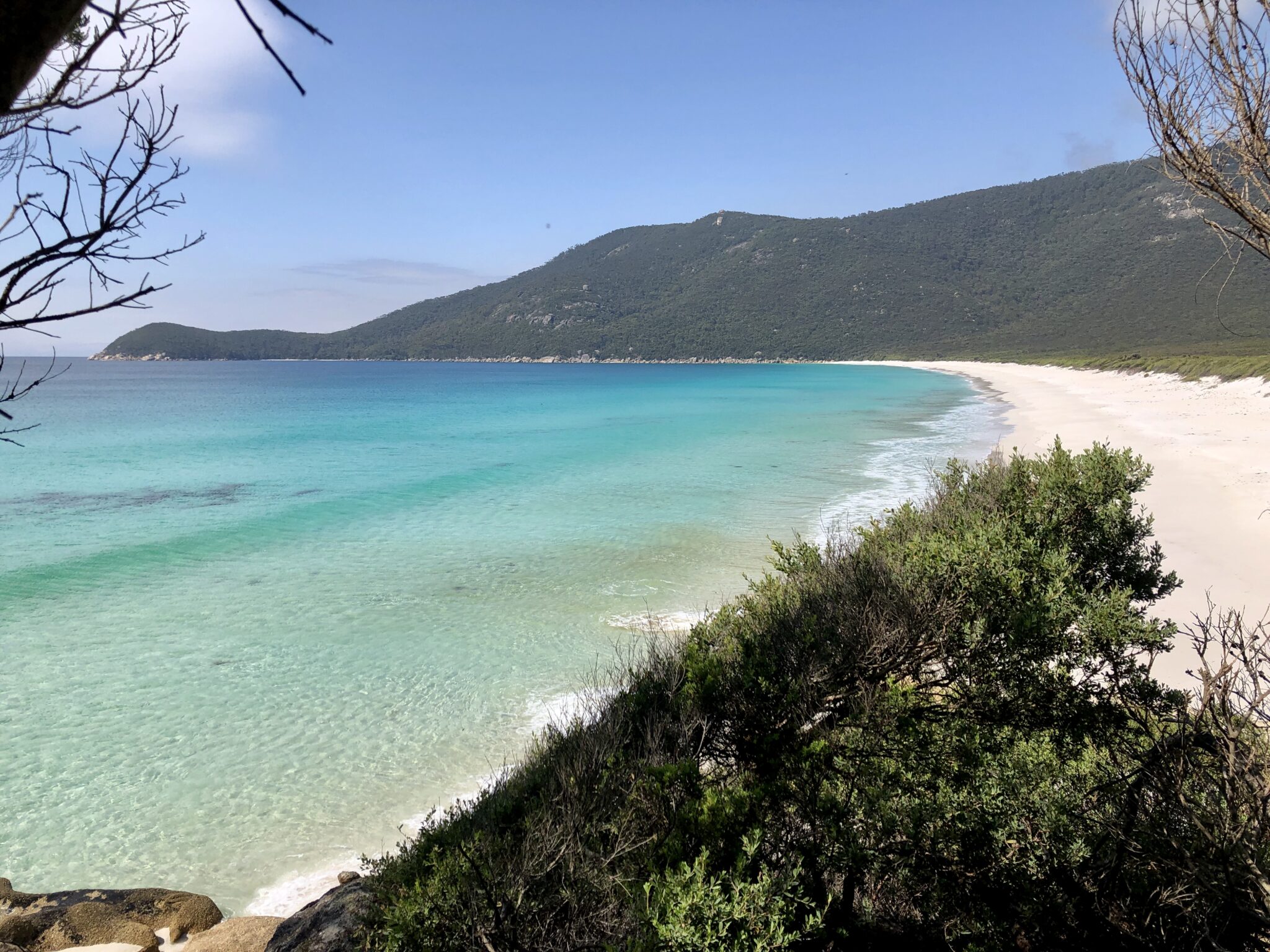 Day Hikes at Wilsons Prom
You can choose your own adventure at Wilsons Prom when it comes to day hikes. Try taking a gentle stroll through the rainforest, or testing the legs with summit climbs. You can even explore the Prom's incredible beaches on a coastal trail. There's nothing better than kicking off the shoes and wading into the turquoise water at the end of a hike.
View from the top
The picture-perfect photos of Wilsons Promontory are usually of hikers standing high on a rocky outcrop taking in views of the pristine coastline below. To insert yourself in these postcard-like views, you can choose from a few different summit walks. The Mt Oberon Summit Walk is the most popular – you'll see plenty of other day trippers as you traverse the 3.4km long switchback trail. A short stair climb to the rocky summit reveals the incredible outlook over Tidal River campground and the Prom's western coastline. For some less crowded options – but equally panoramic views – try the 3.7km Mount Bishop Summit Walk, or the 2.4km Darby Saddle to Sparkes Lookout Trail. Both are narrow forest trails that offer glimpses of the ocean views on the way up. It's good motivation to keep going and be rewarded with the incredible vistas at the top!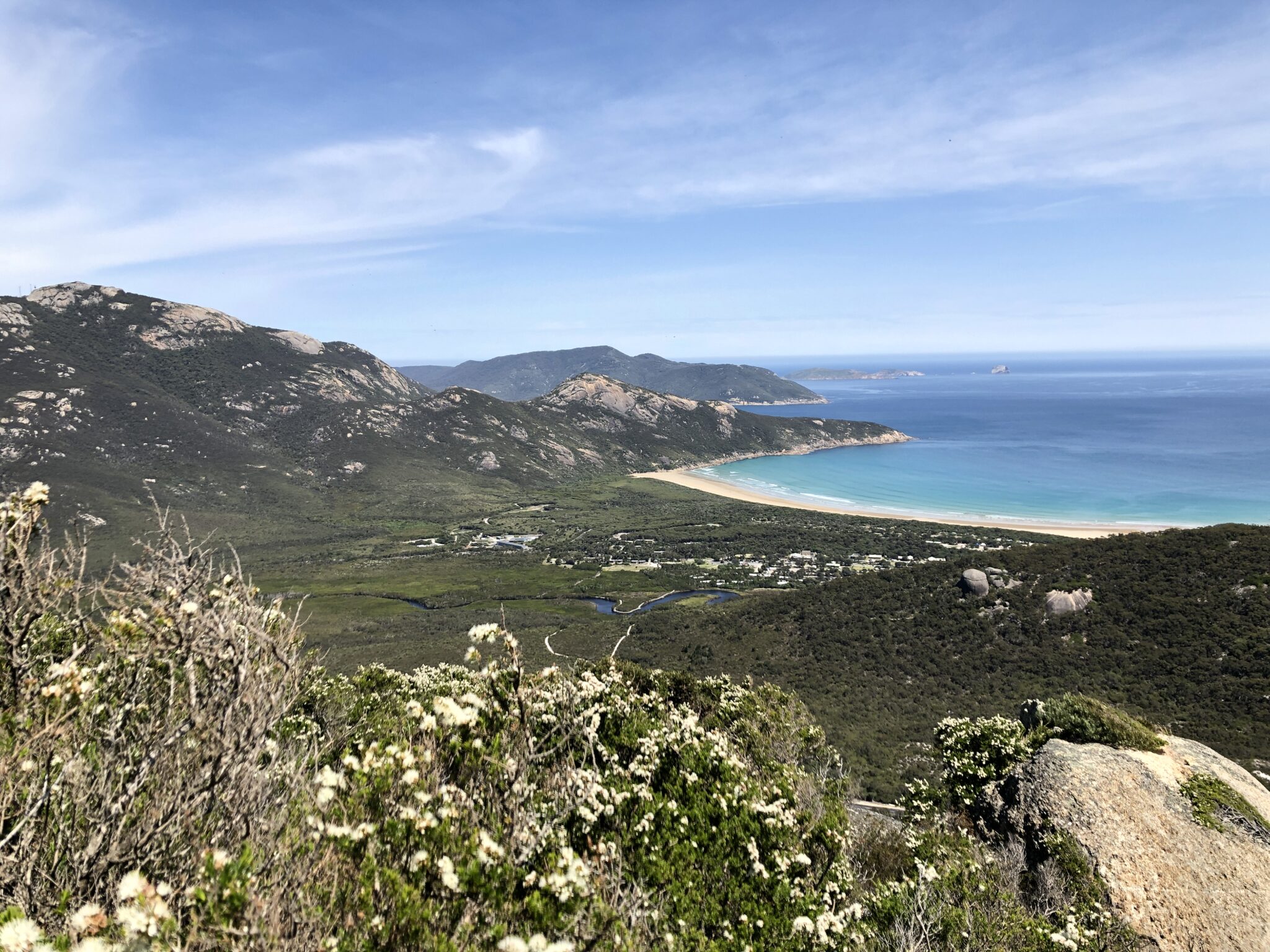 Take a stroll in the rainforest
For an easier option, venture among rainforest and tall eucalyptus trees along the Lilly Pilly Gully Nature Walk. The combination of boardwalk and compacted sand trail make it more accessible and a great family-friendly option. You can walk in and back on the 5.2km nature walk or stretch it out to 5.8km via the Lilly Pilly Circuit that takes you through stringybark forest and back to the carpark.
Explore the coastal trail
You can't go hiking in Wilsons Promontory without setting foot on the pristine sandy beaches. The turquoise water is not just an amazing backdrop, but also a great way to freshen up tired feet post-walk. To combine a hike with some quality beach time, check out the Norman Beach to Whiskey Bay Trail. It links four of the Prom's beaches along the west coast and is a good combination of trail and sand walking. The trail is 6km one way and includes Squeaky Beach which is famous for its white quartz sand – that actually does squeak beneath your feet!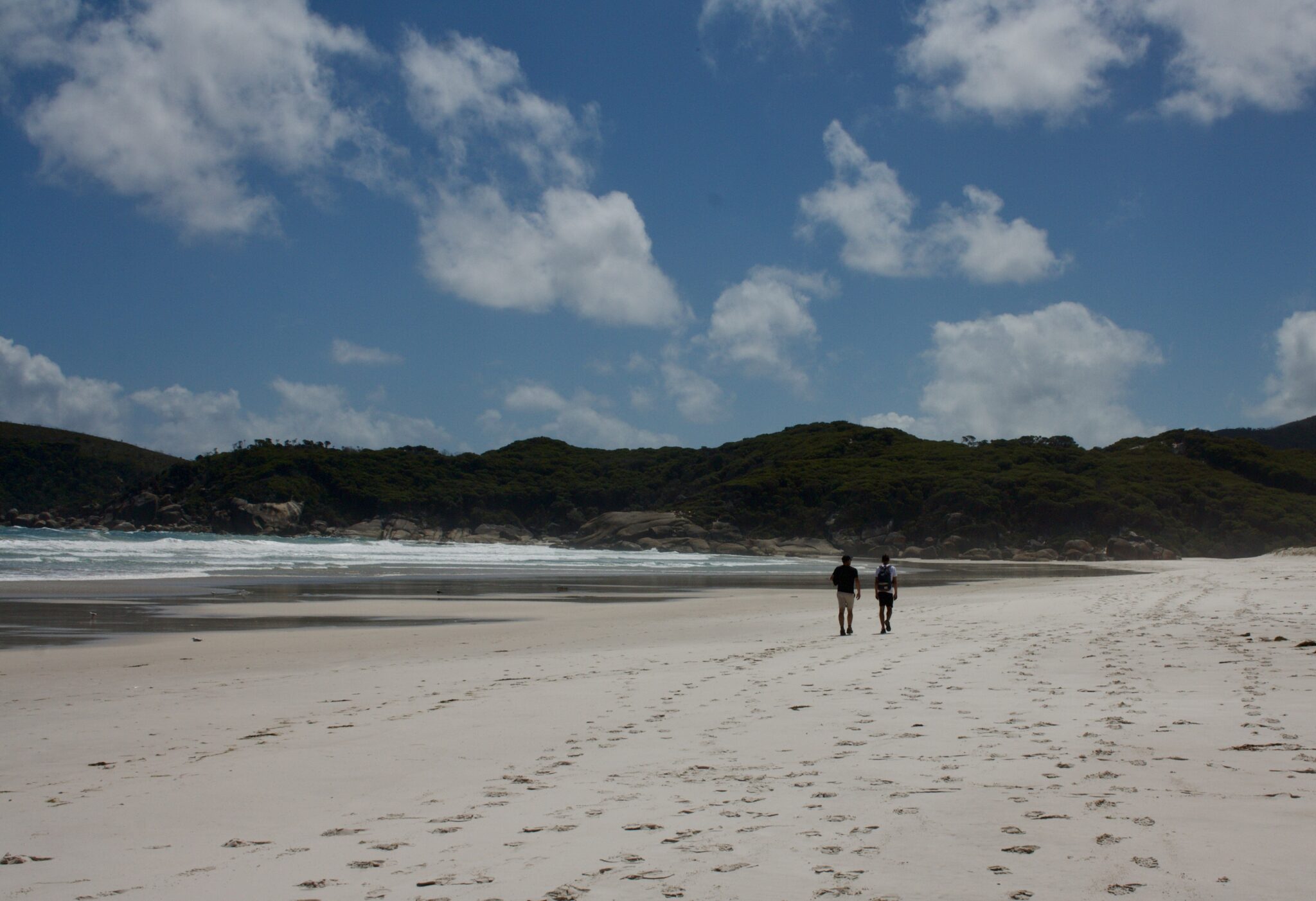 Overnight Hikes at Wilsons Prom
The incredible south
The overnight hikes in the southern section of Wilsons Promontory are guaranteed to nourish your soul. The pristine beaches are like an oasis – and are only accessible on foot or by boat. When you make the effort to load up a backpack and hike in, you feel like you've earned your place in this incredible setting.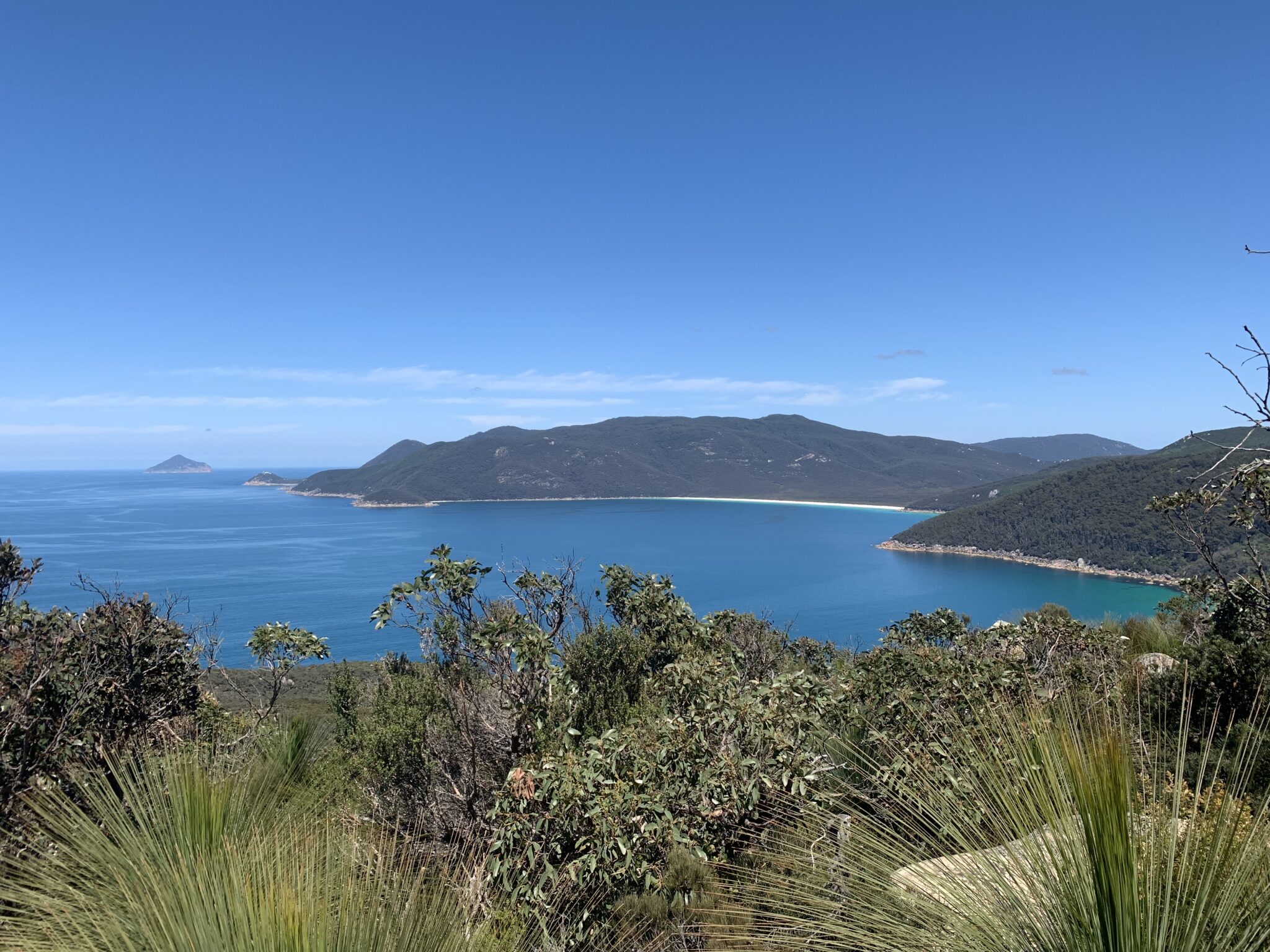 The eastern shore of Wilsons Prom has campsites at Sealers Cove, Refuge Cove and Little Waterloo Bay. You can visit them all on the Southern Prom Circuit, a 35.9km loop that is recommended as a three day, two night hike. You can also download a map and plan your own adventure. There's many more campsites and trails, including Wilsons Prom lightstation and South Point, the southernmost part of the Australian mainland. You need to book a hikers permit to stay at the campsites, so make sure you do this before entering the park.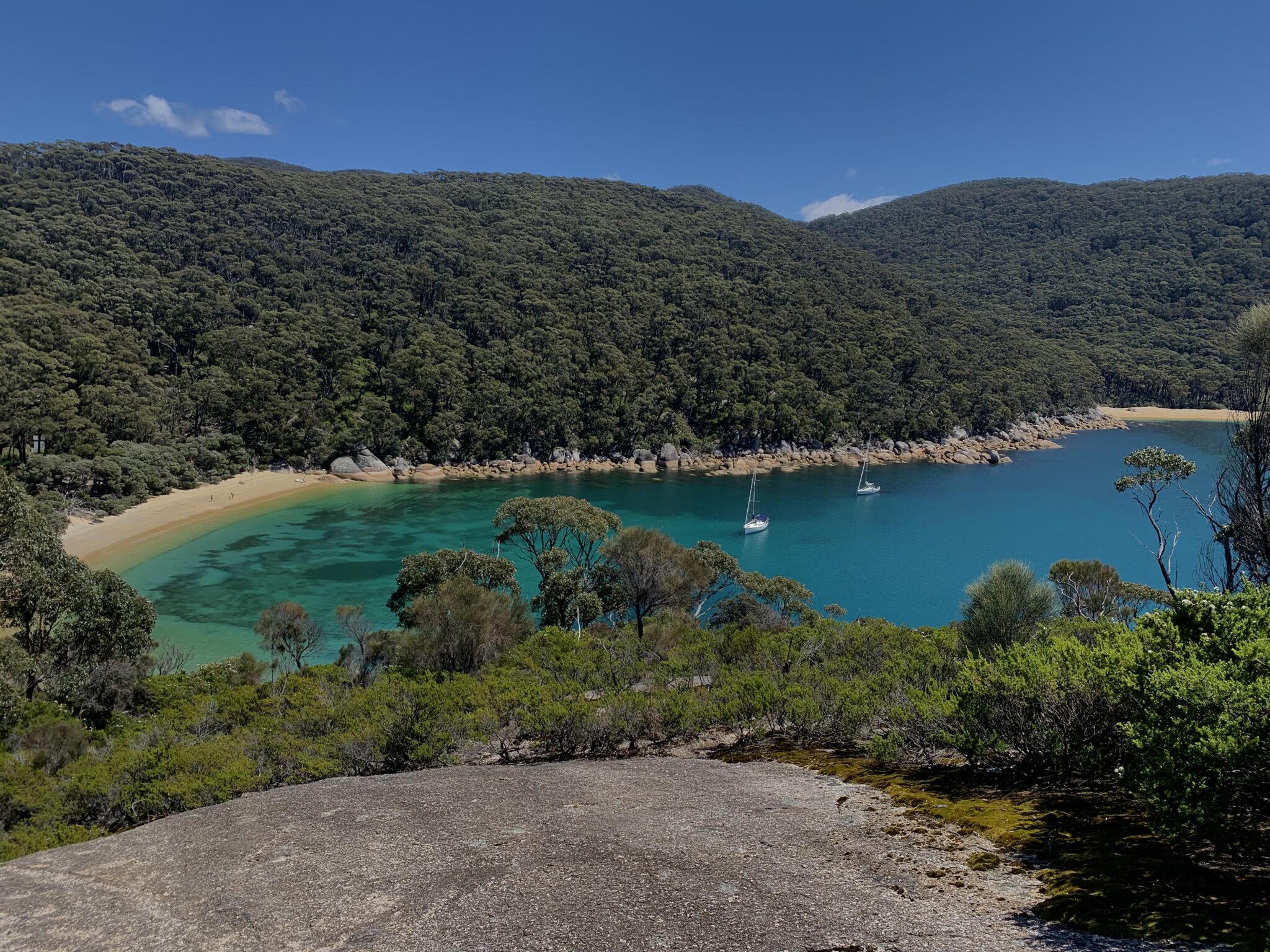 The northern wilderness
The northern section of Wilsons Promontory is a wilderness zone with walks and campsites available to experienced hikers only. There are no facilities at the campgrounds and limited markings on the trails, so you must be able to navigate with a map and compass. There are five campsites along a 57km loop, or you can do an out and back hike to shorten the distance. If you are equipped and ready to take on the wilderness, you'll find a rugged Prom landscape and deserted beaches waiting for you.
Where to stay
Tidal River
The campground at Tidal River is an excellent base camp for hiking Wilsons Promontory. You can walk out to a number of day hikes, or take a short drive to others. The campground has some hut and lodge accommodation, and a large number of (mostly unpowered) campsites. Camping at Tidal River comes with a warning about the resident wombats – they like to raid your tent in search of food at night! They are not the only wildlife you'll spot. Keep an eye out for wallabies along the trails and an amazing array of birdlife, including emus, throughout the whole national park.
Yanakie
If you are planning to travel at a peak time and can't get accommodation in the national park, there are some great options nearby at Yanakie. Only five minutes drive from the entrance to Wilsons Prom, Yanakie has a caravan park and many private accommodation options such as cabins and farm cottages.
Before you go
Check the Parks Victoria website before you visit the Prom for updates on track closures, planned burns and weather or fire warnings. Also note that conditions can be quite windy and cold even in the warmer months. Make sure you have the right gear, particularly if heading out for the overnight hikes. 
Have you been hiking in Wilsons Promontory? We'd love to hear about your adventures in our Wild Women Community. Also, if you loved this, you'll love our blog Girls' Guide to Hiking the Great Ocean Walk.