Winding along the southern Victorian coast just a few hours out of Melbourne, the Great Ocean Road is one of Australia's most popular tourist attractions. At every beautiful viewpoint you'll find a sea of eager visitors clustered around to admire the wind-whipped sea cliffs, crescent beaches, and flourishing koala population.
But there's still so much more to this region than can really be experienced along a paved road or at an over-crowded lookout— much of its magic lies deep in the Great Otway National Park, hours out of mobile reception on wild headlands and in sheltered coves. The Great Ocean Walk attempts to capture some of that magic, and in exchange for walking 104km with all of your own gear, you'll be rewarded with the kind of breathtaking views that most road-trippers could only dream of.
Whether you're grabbing a few girlfriends or setting out alone, this Great Ocean Walk guide is sure to set you up for an adventure for the books!
What to expect on the Great Ocean Walk
From Apollo Bay in the east to the Twelve Apostles in the west, the Great Ocean Walk passes through towering eucalypt forests, traverses secluded beaches, and leads up wild headlands to reach some of the state's tallest and most dramatic sandstone cliffs several days later. It is, without a doubt, some of the most spectacular and varied scenery you'll find on any walk in mainland Australia.
Here's what you can expect along the way, from campsites and hiking conditions to animal encounters on the trail:
Accommodation
The first thing you'll need to do when planning your Great Ocean Walk is reserve campsites using the super convenient ParkStay system by Parks Victoria. Each campground along the Great Ocean Walk costs $17.20 per night, meaning that a 5-day hike will cost you $68.80 and an 8-day hike (staying at all 7 campsites) will come in at $120.40.
At every GOW campground, you'll find 8 tent sites, untreated rainwater tanks, drop toilets (with toilet paper, although it's never a bad idea to pack some just in case), and three-wall shelters with a communal table.
Both Elliot Ridge and Cape Otway are known for frequent koala sightings, while Johanna Beach and Blanket Bay have the best coastal views!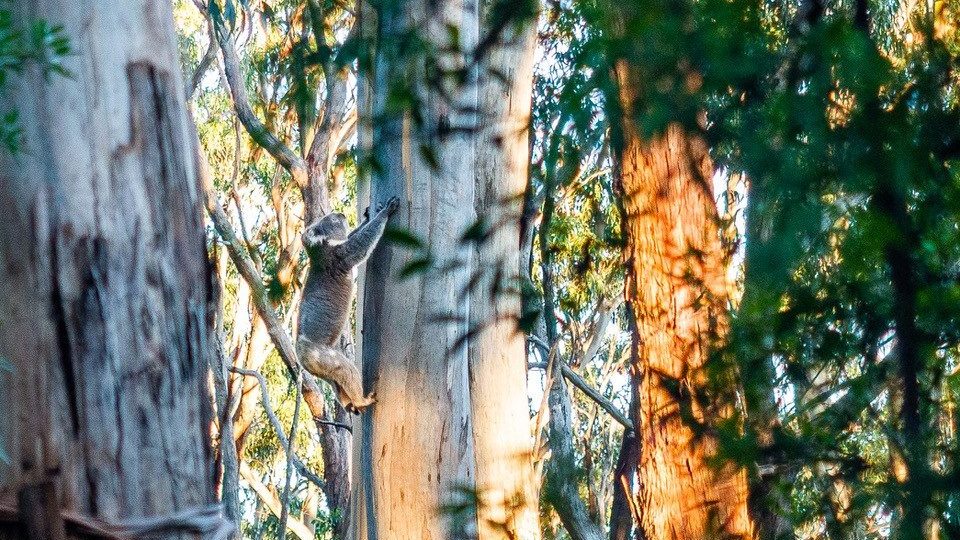 Terrain
There is lots of varied terrain on the Great Ocean Walk, which is part of what makes the journey so interesting. Expect to walk across sandy beaches, narrow dirt trails, wider fire trails, some sections of gravel or paved road, slippery wooden bridged, and up/down stone steps, with a few kilometres of boardwalk scattered throughout.
Elevation
Over the course of the Great Ocean Walk, you will gain and lose around 3,300m of elevation, which isn't a massive amount compared to trekking in the Alps or the Andes— but it's also nothing to scoff at, especially if you're doing the walk in four or five days.
Very little of this walk is actually spent on flat ground, and although some of the ascents/descents are undulating or very gradual, others can be fairly steep. Trekking poles and hiking boots are a must! (Tips on hiking gear here)
Navigation
The Great Ocean Walk is impeccably signed, making navigation incredibly simple along the trail. All important junctions are marked with a yellow arrow and various points throughout the journey also have a sign indicating distance to major landmarks, including the nearest GOW campsite.
Reception
Certainly don't count on having consistent mobile reception along the Great Ocean Walk, but given its proximity to the Great Ocean Road and several popular tourist sites, there is limited mobile signal at several of the campgrounds and popular beaches if you do need to connect.
Weather
The weather along Victoria's coast is notoriously wet and unpredictable, and the Great Ocean Walk is absolutely no exception.
In winter, that means bringing warm clothes and rain gear, a durable tent with a rain fly and guy lines, and a cold-weather sleeping bag (rated to at least 0C). In summer, pack plenty of sunscreen and a hat, make sure to carry enough water for the day (as well as a filter in case the rain tanks are empty), and stay alert for bushfire warnings.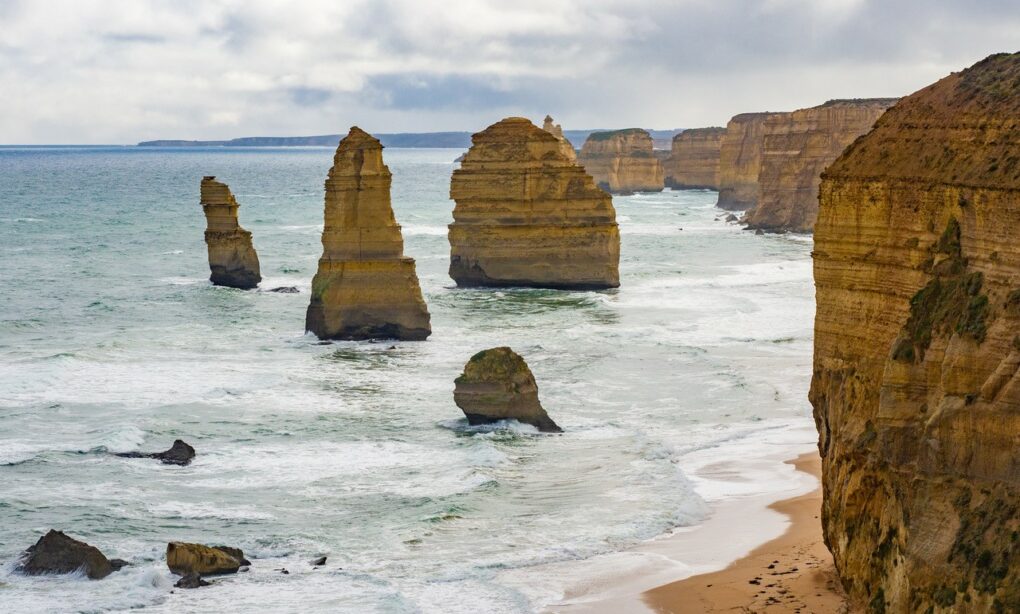 Safety
All the gear and safety equipment in the world are no substitute for common sense and basic wilderness experience, but it's still an essential part of a safe and happy hike.
Always carry a well-stocked first aid kit in case of emergencies, probably the most concerning of which is a snake bite. It's very important to have the necessary items in your kit and to know how to use them; also, a PLB is an excellent safety net when hiking alone!
Wildlife
One of the very best things about the Great Ocean Walk is the opportunity to see endemic Australian wildlife, particularly koalas, kangaroos, echidnas, and even whales. Koalas are particularly common at Elliot Ridge and Cape Otway campsites, while you'll have a great chance of spotting Southern Right Whales off the coast of The Gables (near Ryan's Den).
Great Ocean Walk itinerary
The Great Ocean Walk (GOW) is officially divided into 8 stages, each concluding at a dedicated GOW campsite with basic facilities and simple tent sites (with the exception of Stage 8, which culminates at the Twelve Apostles).
It's possible to walk each stage as a separate day or combine various stages to suit an itinerary of any length. For quick hikers, 5 days is certainly manageable— just be sure to allow enough time to really enjoy this incredible part of Australia!
Stage 1: Apollo Bay to Elliot Ridge
Distance: 9.8km
Trail hours: 2h50m
Difficulty: easy/medium
Highlights: Beautiful stretches of beach walking along quiet Marengo, Three Creeks & Shelly Beaches; incredible ferns and towering trees in the Great Otway National Park; koalas at Elliot Ridge
Campsite: Elliot Ridge GOW Hiker Camp
Stage 2: Elliot Ridge to Blanket Bay
Distance: 12km
Trail hours: 2h45m
Difficulty: easy
Highlights: Wild coastal views out towards the cape, with some of the walk's most dramatic sea cliffs; historic Cape Otway lighthouse
Campsite: Blanket Bay GOW Hiker Camp
Stage 3: Blanket Bay to Cape Otway
Distance: 10.5km
Trail hours: 4hrs
Difficulty: easy/medium
Highlights: Beautiful forest scenery through Great Otway National Park; a muddy but very scenic descent to sunny Blanket Bay
Campsite: Cape Otway GOW Hiker Camp
Stage 4: Cape Otway to Aire River
Distance: 9.6km
Trail hours: 2hrs
Difficulty: easy
Highlights: Pumping surf at Station Beach; views over the wetlands at Aire River Lookout
Campsite: Aire River GOW Hiker Camp
Stage 5: Aire River to Johanna Beach
Distance: 13.8km
Trail hours: 4hrs
Difficulty: easy/medium
Highlights: Wild coastal views between at Castle Cove; fairytale manna gum and grass tree forests; severals kms of walking across Johanna Beach; camping with an incredible view of the coastline
Campsite: Johanna Beach GOW Hiker Camp
Stage 6: Johanna Beach to Ryan's Den
Distance: 13.8km
Trail hours: 4hrs
Difficulty: medium/hard
Highlights: Eastern Grey Kangaroos hopping through the rolling hills near Johanna Beach; sun at secluded Milanesia Beach
Campsite: Ryan's Den GOW Hiker Camp
Stage 7: Ryan's Den to Devil's Kitchen
Distance: 12.8km
Trail hours: 4h10m
Difficulty: medium/hard
Highlights: Wild coastal views from Moonlight Head & The Gables Lookout, perched on one of the highest sea cliffs in Australia
Campsite: Devil's Kitchen GOW Hiker Camp
Stage 8: Devil's Kitchen to Twelve Apostles
Distance: 16km
Trail hours: 4hrs
Difficulty: easy
Highlights: Glimpses of the Twelve Apostles down the coastline; beautiful scenery at the Gibson Steps; the incomparable Twelve Apostles & the end to the Great Ocean Walk!
Want more awesome location tips? Try Hiking Wilsons Promontory: A Guide for Wild Women.