If you're the kinda person who'd prefer a tree house overlooking a stunning nature reserve to a hotel, or a sleep amongst the stars in a real cave (yes, it's a thing) to a resort … this list of the wildest Airbnb's in Australia is for you.
Situated in some of the most beautiful hiking locations in Australia, the following sites are guaranteed to beat the some of the European summer spots us Aussies can't quite get to yet. With travel options on the horizon, we hope it provides you with some much-needed wanderlust and something exciting to look forward to!
The Tree House, NSW
If you're looking for a home amongst the gum trees, this is the spot for you. All your childhood dreams will come true at The Tree House, Blue Mountains. Nestled amongst the beautiful Australian wildlife, this amazing location overlooks a beautiful national park with some impressive hiking trails. Just 2 hours outside of Sydney, it's the perfect choice for an adventure lovers' weekend away. At over $1000 bucks per night, it's not cheap… but it'll be sure to be a night to remember!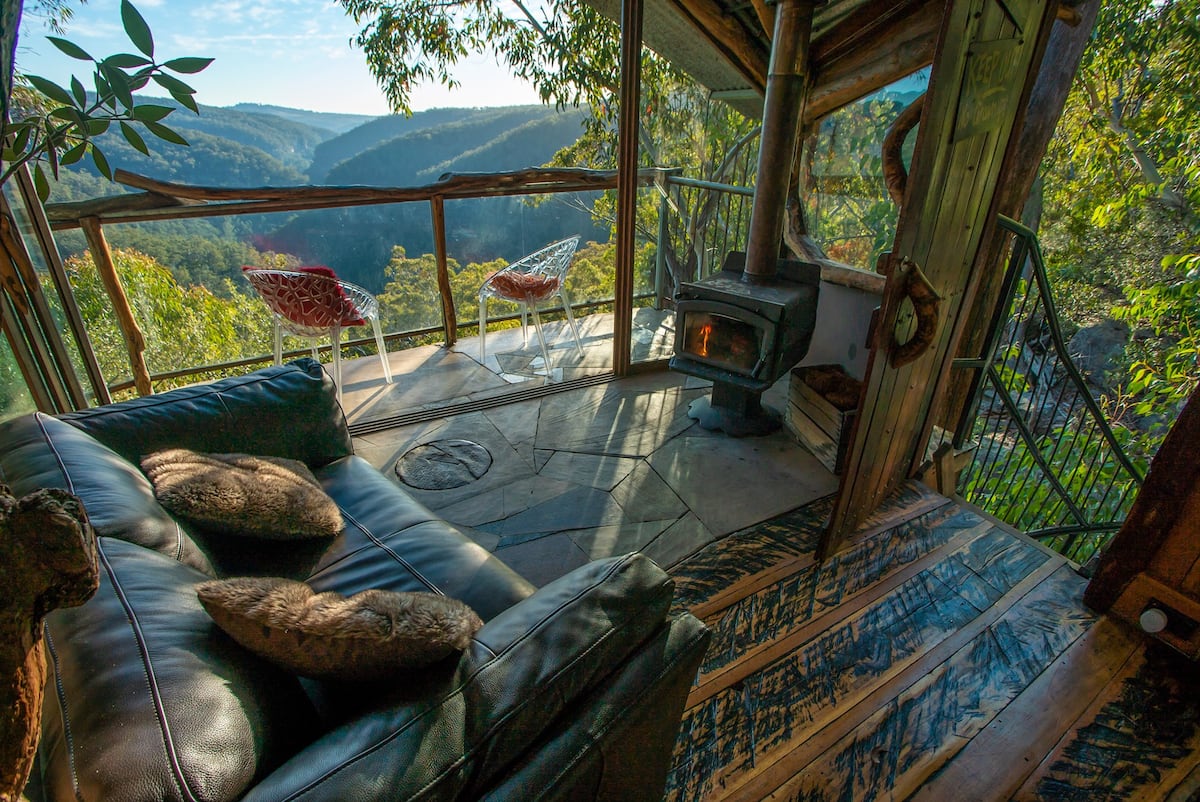 Camel Beach House, SA
This luxurious, off-the-grid property will fulfill all your wildest beach-house desires. Situated on 250 acres of heritage property, Camel Beach House offers panoramic views of the southern tip of the Chain of Bays on the wild Eyre Peninsula. Not only is it picture perfect, but the house is an eco-home using purely rainwater and solar power for energy. What more could you ask for?
Aerie, TAS
This stunning location is architectural perfection surrounded by beautiful wilderness just waiting for you to explore it. Located just south of Hobart, Tasmania, this nature hub features a sauna, fire pit, and an incredible timber hot tub overlooking a marine reserve – exclusively available to guests – where you have access to snorkelling. Near some of the most incredible hiking trails Tasmania has to offer, this Airbnb will fulfil the dreams of both the adrenaline junkie and the yogi within you.
The Cube, SA
The Cube is a modern floating eco pod that bobs along the Murray river. If you're looking for a wild new experience in the world of accommodation, this water home is for you. No fear… the home is tied up along the shoreline, so you won't float adrift as you sleep. The perfect place to reconnect, relax and unwind, this stunning location offers a magical little slice of Australian nature.
Hatter's Hideout Cave and Lodge, NSW
Fulfilling all your post-COVID party dreams, this AirBnb is as wild as they come. You can choose to sleep in the unique, hand-built lodge or snuggle up in the amphitheatre-like cave for the adventure of a lifetime. For those of us who like our creature comforts as well as our wild adventures, you'll have access to a cosy kitchen and shower whenever you choose. The location sleeps up to 16 people and sits on 8 private acres of Blue Mountains wilderness. It's certainly one of the wildest Airbnb's in Australia!
The Lightstation Studio, VIC
This gorgeously renovated studio apartment is situated right behind Cape Otway lighthouse in Victoria, in a section of the original 1859 Lightkeeper's Quarters. Guests have the opportunity to climb to the top of the lighthouse each morning and experience the stunning views of the Southern Ocean. Staying here, with so much to do, you'll reach your daily 10,000 steps in no time. This property provides that home-away-from-home feeling, while being nothing like you've ever experienced before.
If you loved this must-see list, check out our blog on The Best-Off-The-Beaten-Track Camping Spots In New South Wales.