When Extreme Sleeper Phoebe Smith, editor of Wanderlust Travel Magazine, was first invited to sleep on the dirt in a swag bag in the Australian outback, she jumped at the opportunity.
But when her guide started giving her tips on how to avoid deadly spiders, snakes, and jumping ants, she wondered what she'd let herself in for. "Oh my god, why am I doing this here where it seems like everything's out to kill me," she thought.
But she faced her fear and ended up having the most incredible night out. Coming from the UK, Phoebe had never seen a sky lit bright with stars and the luminescent milky way. She woke to the magic colours of sunrise, peeking out from her swag bag to the sound of tiny birds foraging for their breakfast and then watching the rain gushing off Uluru after a rare desert storm.
Phoebe loved it so much that when she returned home to the UK, she decided to become a tourist in her own backyard. She discovered the best way to quench her thirst for nature was to pitch her tent wherever she was, aiming to find a discrete spot in the woods or by a stream.
At first, just sleeping outside felt daring, but in time she expanded her comfort zone. "The more wild camping I did, the less extreme it felt, and I found myself getting wilder and wilder," she said.
As her confidence grew, she became an extreme sleeper, pitching her tent on rocky mountain crags after hiking all day to reach the summit. Then, she set herself the challenge of sleeping at all the extreme points of Great Britain, dangling off buildings, sea cliffs, rocks, and ledges in a stretcher rigged by expert big wall climbers. This was followed by sleeping out on the summits of the highest mountains in the UK as well as sleeping under the ice in the chambers of a glacial cavern.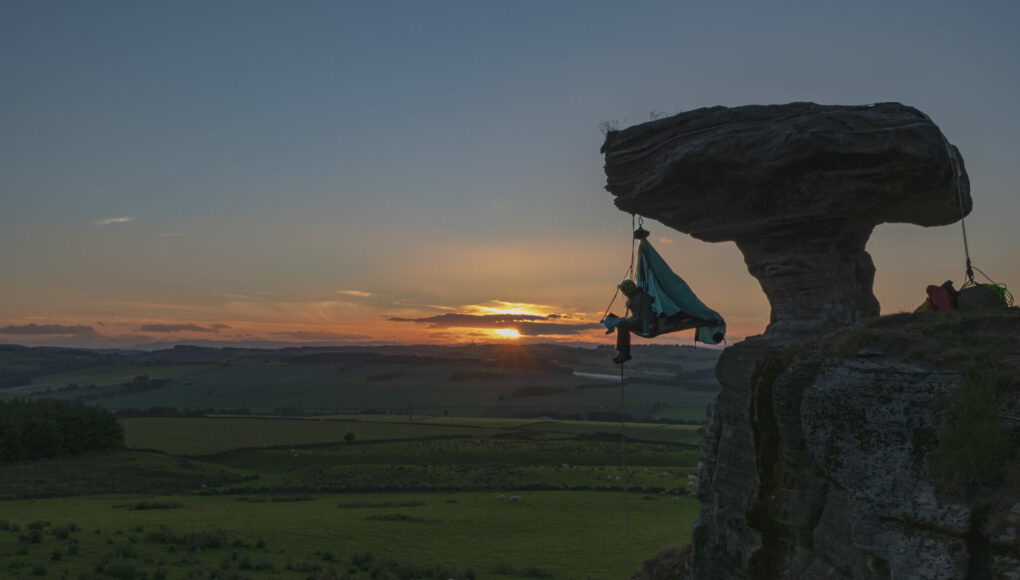 Photo credit: www.Phoebe-Smith.com 
"I'm always looking for new places to sleep, especially in winter because you get to stay longer in bed! If I think it's going to be wet or windy I'll sleep in a tent or a bivvy bag, but it all depends on the conditions. My motto is "enjoy not endure", so it's always about having a good time," said extreme sleeper Phoebe.
In a world where 'eight hours' is pitched as the holy grail of health, it's hard to understand how getting less sleep could make you feel more awake. But for those of us living busy, metropolitan lives, a night under the stars might be exactly what we need.
Sleeping outdoors might not be restful, but it is exhilarating. It's a way to be at one with nature, providing an antidote to our racing minds.
For Phoebe, it was her chance to escape the business of work and her hectic urban life for the peace and tranquility of the wild. Sometimes, her locations are so exposed to weather, wildlife, and wind that she hardly sleeps, but she still comes home revitalised.
Rejuvenation doesn't always come in the form of a magic eight-hour snooze.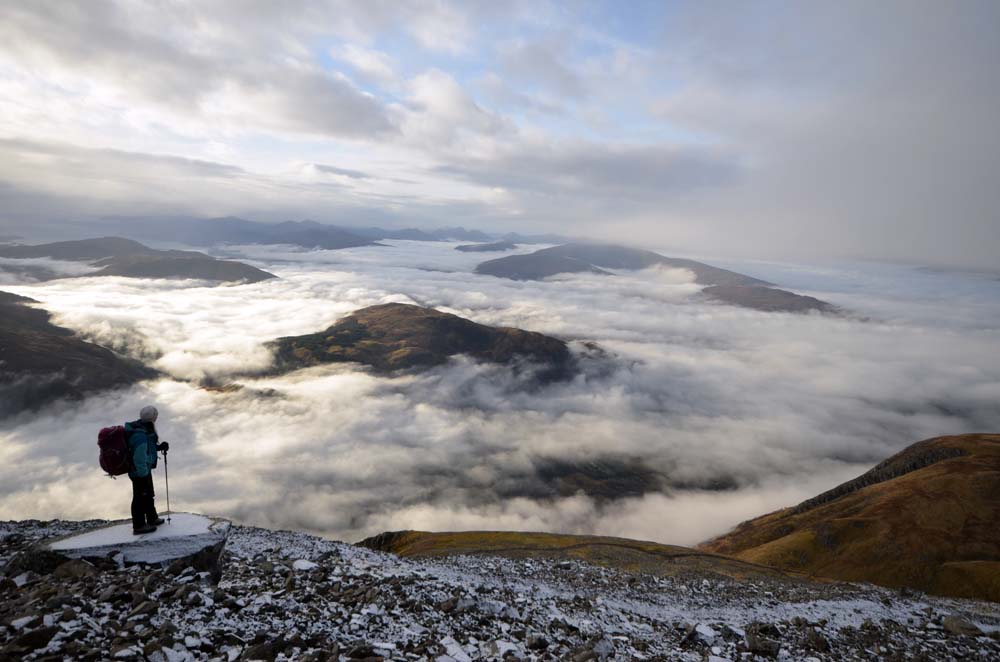 Photo credit: www.Phoebe-Smith.com 
This is also true in my experience of wild sleeping. I've slept on the ice in an ice cave by the light of the full moon in the Australian Alps, spent a sleepless night between jagged rocks at Camp 4 on Mt Ama Dablam, snoozed under a ledge in a bivvy bag on Mt Aspiring, nodded off to the sounds of snoring in an 18-person bunk on Mt Fuji, survived overnight possum attacks from a World War 2 Bunker at North Head and slept under the stars on a stretcher by the fire on the Larrapinta trail.
But it's the magic of waking at dawn to a view so spectacular you can't believe it's real that enriches your soul in a way no five-star hotel ever could. It's the feeling of sipping hot coffee on the side of a snow-covered mountain, your breath misting your glasses with every sip, that makes you tingle right down to your toes.
Sleep is about so much more than just 'no screens before bed. It's a way to facilitate new experiences – like watching the sun rise over a panoramic and remote vista, or snuggling down in a sleeping bag while you gaze at stars you thought were only found in fairy tales.
When we think about sleep, let's focus on novelty as well as quality and quantity. Because a night in a tent or under the stars or in an ice cave or on the side of a mountain might not score 10/10 in the shut-eye department, but it'll rejuvenate you in a way no plush mattress could.