I haven't always been a Wild Woman. Don't get me wrong, I love getting out and about in nature. I love the Aussie bush and I adore the ocean. When I go on holidays, I want to discover new places, see new things. I'm the first one to suggest we lace up our running shoes and go for a walk, or a hike, to explore. But I'm also pretty bad at preparation, which led to my huge hiking mistake.
You see, I'm impulsive, disorganised, and impatient. I like to see where the wind will take me, literally. That usually means I don't think or plan ahead, which can sometimes result in tears. Floods of tears.
The best adventure I've ever had was also the one I learnt the most from. It was the best because it was bloody awesome. But it was also hard. Not because of the trail, or the weather, or some unexpected obstacle. The struggles I experienced along the way were entirely my fault.
In October last year, my partner and I left a rain-soaked Sydney for deliciously sunny North Queensland. We decided we wanted to do as much as possible on this getaway. We wanted to leave no stone unturned. We planned to visit every beach, eat at every good restaurant. And take risks. We didn't want to be that couple who went on a holiday and stayed inside watching Netflix all day.
My partner, Antoine, had done his research. He'd found an awesome adventure for us, Walsh's Pyramid. It's the highest freestanding natural pyramid in the world and is located about 20km outside of Cairns. The walk is for advanced or confident hikers and the incline is steep at times. I wouldn't call us "advanced" hikers, but we both like to keep fit. We have a healthy lifestyle and we exercise regularly. I was confident we could do it. Smash it, in fact.
When I was packing for our luxury holiday I packed some activewear, but I didn't exactly bring the quality gear you need for a long hike. I didn't have any hiking boots, let alone hiking poles. I didn't bring a day pack or water bladder. I brought some runners, some tights, a sports bra, a singlet, and sunscreen. So when it came to dressing for our adventure, I was severely underprepared. My first hiking mistake.
Unfortunately, the situation was the same in the food and water department…
We arrived at the base of the pyramid like two ants, with small backpacks, a cheese and vegemite sandwich each, two full 500ml water bottles and two bananas.
"Surely, there will be water on the way," we said to each other. "How could it be a tourist attraction and not have water?"
Oh, how wrong we were. There was absolutely no water supply. No tap. No creek. No nothing. We had barely a litre of water between us for a 4–6 hour hike. In 35˚C heat.
At the time, I didn't think it would be a problem. We would just have to ration out the food and water and try to stay under some shade as we made our way up the mountain. But we had made a huge hiking mistake. One that I would be feeling every single step until we reached the top.
The first kilometre or so didn't seem that bad. The warm sun was beating on our sticky, sunscreened backs. But it was a pleasant kind of heat. Small drops of sweat were starting to fall from our brows as we chatted lightly about how amazing the holiday had been so far. About the pizza we'd shared last night. We sipped delicately on water, knowing we should save as much as possible for later. But as the sun rose higher and higher in the sky, each step got harder. Around lunchtime the heat became noticeable. It was intense and unpleasant. The shade didn't protect us from the humid, tropical air. We started yearning for more water and our supply was running low. But we didn't want to turn back. We were determined to reach the peak.
"No stone left unturned."
That's what we had promised each other, so we perservered. At this point, I'll be honest, I was complaining regularly. I was hot, hungry, thirsty, and tired. Everything my partner said annoyed me. Everything he did drove me up the wall.
"We can do it, babe," he said encouragingly, scrambling up a particularly challenging rock. "Just put one foot in front of the other."
"Can you not tell me what to do?"
But as we got closer to the peak my mindset changed. "Not long now," I told myself. "Keep pushing."
My muscles were aching, my backpack was digging into my shoulders. I was almost there, I could see the lookout. Only three steps to go! One, two, three.
"Done!" I yelled, sliding my backpack off my aching body. "Done."
"Honey," came a voice ahead of me. "This isn't the end…"
I was wrong. There was further to climb. And instead of being a mature adult, in charge of my emotions, I burst into tears.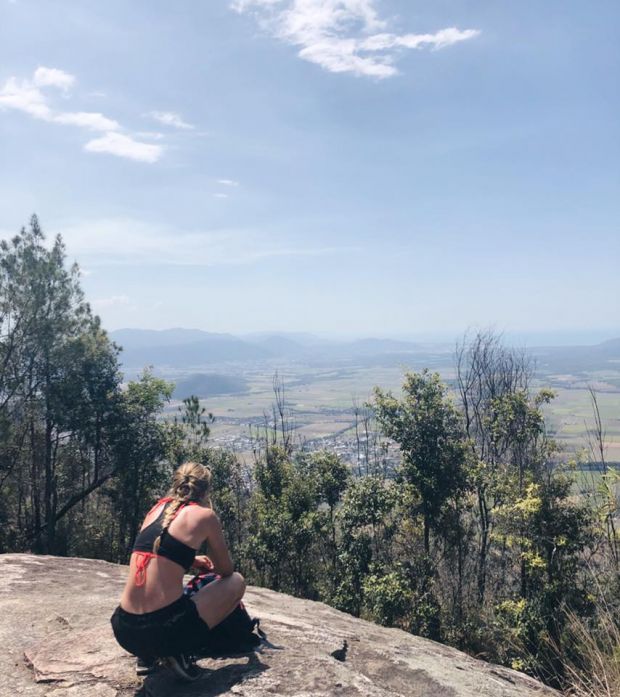 "I'm done," I sobbed. "I can't. I can't."
I was utterly exhausted. I was hunched and crying at the top of a mountain, shaking with anger that we'd been so stupid and so unprepared. That this beautiful moment and memory had been so tainted by our gross lack of planning (the ultimate hiking mistake). We should have been soaking in the scenery, smiling from ear to ear, ready to take on the next leg. But we were hungry, hollow shells who had been defeated by idiocy.
When my tears had run dry and I'd gathered my thoughts, we made our way to the top. The scenery was as stunning as we'd imagined. The sweeping plains were surrounded by bottle-green mountains, extending as far as the eye could see. It felt exhilarating to have achieved such a feat. We were shattered but we'd made it.
And as we made our way down the mountain, slowly and carefully to avoid slipping, we reflected on the highs and the lows.
I'm grateful for Walsh's Pyrmaid. Because that hike taught me so much. Not just about hiking, but about myself. It taught me to never, ever assume there will be water "on the way" again. It taught me to do my research properly and plan accordingly. It taught me to focus on putting one foot in front of the other, even when the going gets tough. And it taught me that you should always respect Mother Nature, because her plans will trump yours every time.
If you're planning on visiting North Queensland I would strongly recommend climbing Walsh's Pyramid. It's a brilliant challenge with truly breathtaking views.
But learn from my hiking mistake and bring water, lots of it!