If you've ever been on a hike with our Founder Di Westaway OAM, you've probably tasted these choc chip cookies. She's been baking them for friends, clients and everyone she meets for about 20 years, since Wild Women was just a few gals in Sydney with big backpacks and bigger dreams.
They've been tweaked and changed and perfected over the years, and the recipe we share today is only slightly like the original, but we think it's the absolute best. A super chocolate-y, crunchy, nutty, melt-in-your-mouth wild women cookie.
If you're expecting a chewy, subway-style cookie, you're going to be disappointed. These are all chunk and not a lot of dough. In fact, you know you've got the mixture right if you're slightly skeptical they're going to hold together. Trust the process. They will.
We wouldn't call this a 'healthy' choc chip cookie – they've got a generous quantity of sugar and butter – but they're also packed with nutrition. They a perfect fuel for hiking, with sugar, fat and protein to keep you going for longer! And, most importantly, they taste delicious, so savour every morsel!
These choc chip cookies are best enjoyed on a clifftop somewhere after a good long hike.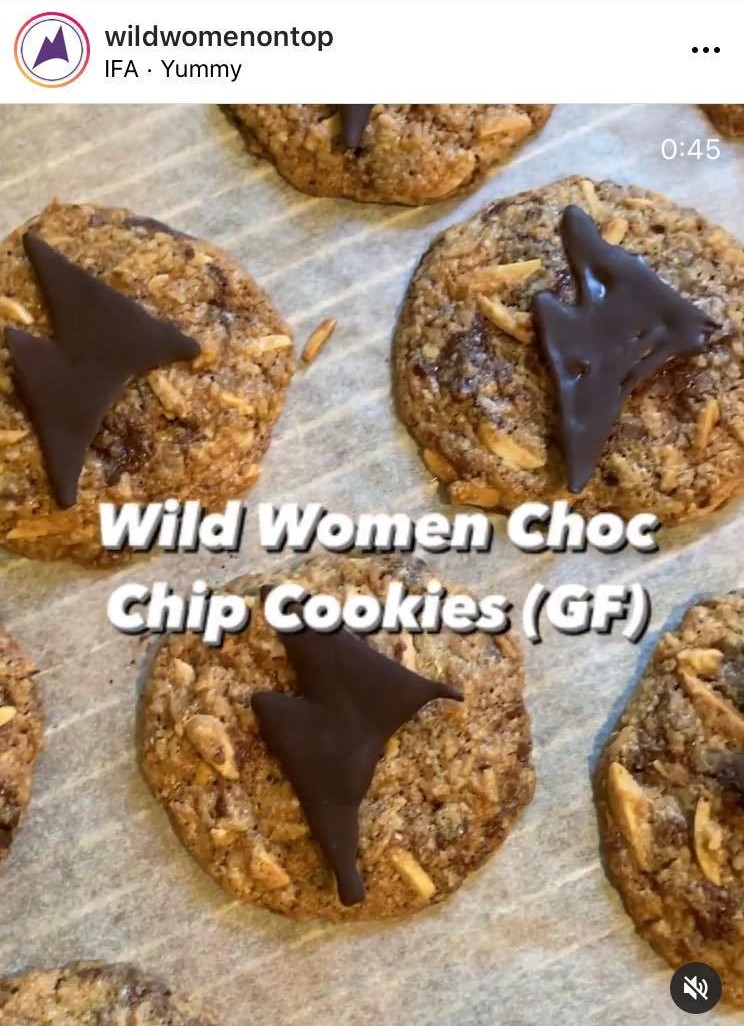 Don't forget to post on socials and tag @wildwomenontop to share your baking goodness with us! We'd love to see your cookie creations.
Ingredients
250g butter
1tsp vanilla essence
1/2 cup brown sugar
1/2 cup castor sugar
2 eggs lightly beaten
1.25 cups almond meal
1.25 cups gluten free self raising flour
1tsp good bicarb
200g shredded coconut, roasted
200g slivered almonds, roasted
250g Lindt dark salted caramel chocolate
200g Lindt 70% dark chocolate
Method
Beat butter, essence, sugars, and eggs with electric mixer until smooth.
Stir in dry ingredients, mix well.
Drop walnut sized blobs 5cm apart on a greased oven tray. Bake in moderately hot oven for about 12 minutes or until lightly browned. Stand for 2 mins before lifting onto wire racks to cool. Makes about 60.
Store in an airtight container in the freezer. They can be frozen for months (but I doubt they'll last that long!) Enjoy!
Notes:
We recommend roasting the coconut and almonds prior to making the cookies (the day before ideally). They need to be cooled completely before being added to the mix. If you don't have time to roast them before and they are slightly warm, put the whole mixture in the fridge for 15 minutes before rolling them into balls, otherwise your cookies will spread into each other.
Chocolate lover? We've got you covered! Check out our Gluten Free Chocolate Cake or our Choc Macadamia Bark.