My household is big into negronis. It's the perfect cocktail for lazy busy people because it seems fancy and chic, but there's zero juicing and very little cleaning up. So, when Emma D'Arcy (aka Princess Rhaenyra in House of The Dragon) broke the internet (and made everyone horny) last week with her 'Negroni Sbagliato… with prosecco in it', I knew I had to make a hiking version and share it with you.
It's not the first time a negroni has got people a bit hot and bothered – remember that Stanley Tucci video from 2020? But while Tucci's was a classic Negroni containing equal parts gin, Campari and good quality sweet vermouth, Emma's version is a little fizzier.
Sbagliato means 'wrong' or 'mistaken', the idea being a bartender mistook prosecco for gin when attempting a negroni and ended up with a sparkling (and less dangerous) version. It tastes like a negroni and an Aperol Spritz had a baby – very nice. Very chic.
This leads us to the reason this is the perfect hiking cocktail. It's not too strong, which you'll know is crucial if you've ever tried to set up a tent after a negroni or two. It's also super easy to pack and transport, again, essential for hiking. Finally, the prosecco gives it a nice fizz – which is a treat after a long day of sipping progressively warmer water from a hydration pack.
So, without further ado… here's the hiking version of a Negroni Sbagliato – enjoy!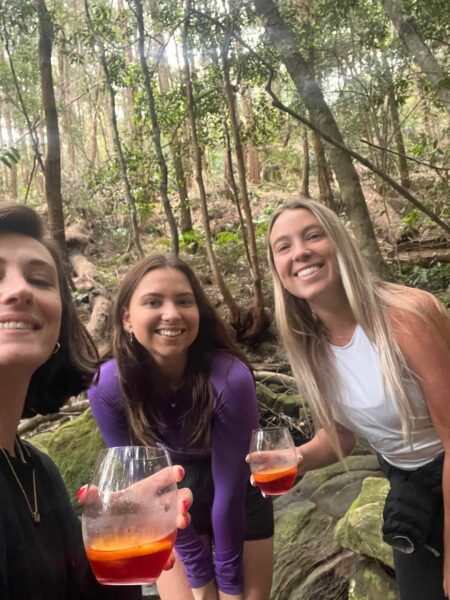 Serves 2.
What you will need…
50ml Campari
50ml sweet vermouth (Antica Formula is the best)
200ml prosecco
Orange, to garnish
Method
At home:
Pour Campari and vermouth into a small leak-proof jar or bottle.
Put ice and orange slices into a small leak-proof container.
Pack into a backpack with prosecco and two plastic wine glasses.
On the trail:
Fill glasses with ice.
Divide the Campari vermouth mixture equally into your glasses.
Top with prosecco to taste.
Garnish with orange