Booking a holiday used to be fun.
Looking at flights, feverish with excitement. Googling 'where to stay in Barcelona?' and experiencing pre-travel joy as you picture yourself sipping a glass of Spanish red in a cobblestone square a few blocks from La Rambla. I even used to plan my holiday wardrobe.
Now, alongside travelling comes labourious admin and many, many forms. Instead of imagining the taste of a fresh Greek salad from a beachside taverna, you're thinking through what happens if you get Covid on the flight. Instead of making a list of the best gelato shops in Rome, you're calculating whether you can afford a stay in quarantine.
A couple of weeks ago, a friend mentioned she was looking for a house sitter on the Sunshine Coast over Easter. I jumped at the chance, even though Easter was less than a fortnight away.
'We can book flights tonight!!!!!!!' I texted my fiancée, Cal.
'Let's do it!' he replied.
And so, we booked some *very expensive* flights to Maroochydore Airport, some mid-pandemic flight credits dulling the sting somewhat.
A couple of days before we were due to fly, I thought it'd be a good idea to book a hire car. We needed one – the house was 20 minutes' drive to… well… anywhere.
As you can probably imagine, book a hire car we did not. We combed through every single car hire website. Called everyone. No wheels for you, they all said. On what Covid-infected planet did you think you could book a hire car, in NOOSA, on the Easter Weekend, one day before you need it? You idiot.
At this point, my stress was rising. The tediousness of the task coupled with the ticking clock made the whole trip feel like a mistake. We'd committed to housesitting, to feeding four animals, but it was also supposed to be… fun? Stress, guilt, frustration and disappointment combined like an exhausting cocktail and I spent the day close to tears. For a moment, I kinda wished for a positive RAT so I could call the whole thing off, guilt free.
'I don't think we can come' I texted my friend. 'I feel so bad but without a car, how will we get around?'
'Have you tried Camplify?' she asked?
I had not.
We went onto Camplify and booked what appeared to be the last remaining vehicle for hire in the entire Sunshine Coast, a 20-foot bus named George. And boy, was he a George. He wheezed like your Grandpa and was just as slow.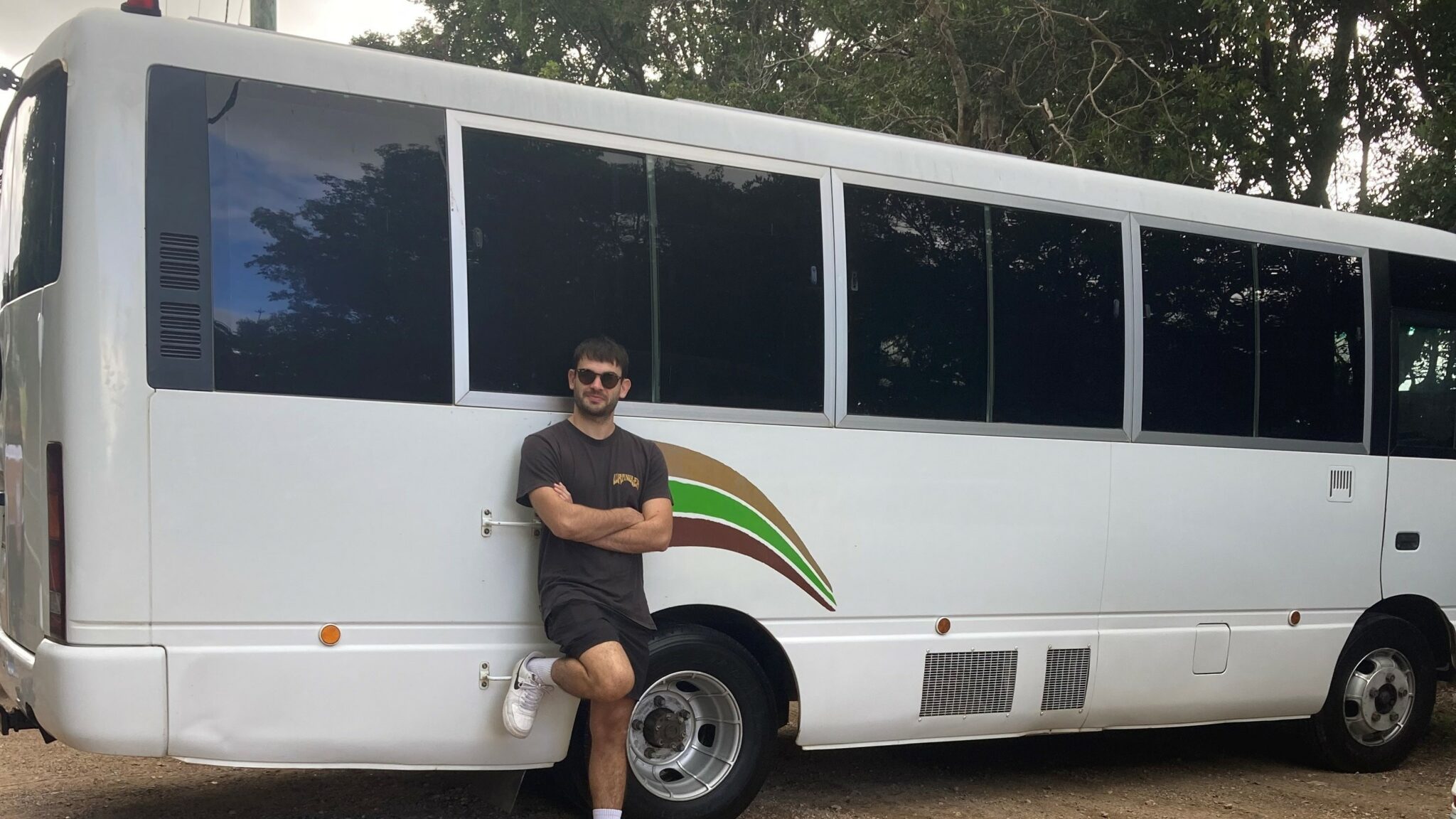 But he had wheels! And, helpfully, a fridge, which we needed because restaurants were off the menu after paying for him.
We were off.
I've heard stories like this from almost everyone travelling at the moment. From the queues at Sydney Airport to the dreaded forms, replacing expired passports and the low-level hum of 'will I get Covid and have to cancel?' always lingering in the background, it can feel like more trouble than it's worth.
But I promise you, it's ALWAYS worth it.
We enjoyed a long weekend of summer after two years of Sydney rain. We read books on the beach, swam, slept and relaxed. We shopped on Hastings St and sipped wine at King's Beach. We hiked up Mt Ngungun (pronounced 'Noo Noo' for those interested) for the most spectacular sunset I've seen in a long time. We cruised around in George, getting our 10,000 steps every day walking from our bus to… well, everywhere. (Surprisingly, finding a 20-foot parking spot near Noosa Main Beach is not an easy feat!)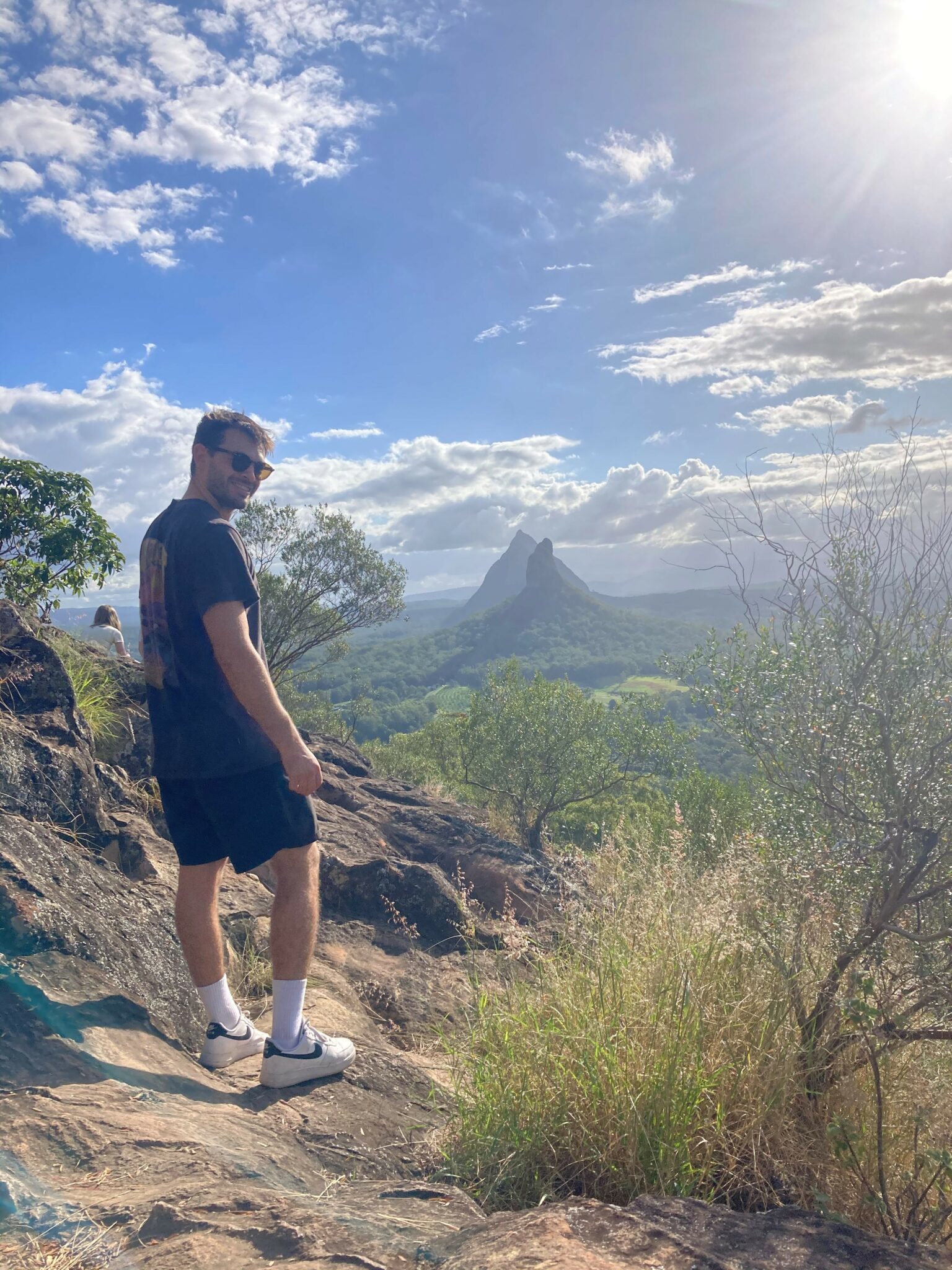 We laughed as we drove in 2nd gear up a startlingly steep hill, not quite sure if we were going to make it. We laughed as I shouted GPS directions to Cal over the wheezy din of George. We laughed as we ate wraps (again) on the side of the road because we didn't want to spend any more money.
And you know what it reminded me? Travelling is messy. Shit happens. You get lost, need to pee, wait around a lot and get tired. It's always been like that. You have to do admin and get on buses (or learn to drive them), ask for favours from strangers and eat slightly stale bread. You can't always guarantee they'll have your favourite brand of oat milk (Oatly, for the record.)
But you also feel alive. You feel reborn, refreshed. You have adventures. You get dirty, and then you get clean again. You have to solve problems, be creative, flexible, agile.
When convenience and routine are stripped away, we find freedom.
Booking travel might not be as simple as it once was. It might not be as certain. There will be times you'll wish you'd never made the effort, that you were home watching Netflix in the comfort of your bed.
But I guarantee you, you'll never regret booking that trip. You'll never look back and think, damn, I wish we had gotten a Toyota Kluger instead of George. You'll never wished you stayed home.
Well, maybe if you get Covid. But even then…
Roll the dice. It's worth it.
Ready for your next adventure? We've partnered with our friends at World Expeditions, Australia's first adventure travel company, to launch a new range of homegrown, kick arse, women's-only hiking adventures. The best part? They do all the prep work for you, so you don't have to waste any time booking hire cars!