You might think of the outdoors as an inclusive place. There's no fences, walls or gates, parks are free to explore, and if puffing up a hill isn't a great equaliser, I don't know what is.
But for many women, invisible barriers to the outdoors still exist. Especially when it comes to gear.
In 2022, it shouldn't be hard to find hiking gear that fits bigger bodies, muscular bodies, big boobs and hips. But unfortunately, it is.
Meet Cath Wallis, Tan McKeown and Emily Gray – three women who have experienced this barrier firsthand. I spoke to them about their experiences with outdoor clothing and body shaming to get a better insight into how it impacts their motivation, mental health and drive to experience the outdoors.
Cath is a Canberra-based hiker, trail runner, and adventurer whose philosophy is "living life BIG in the body that I have". Tan rediscovered her teenage love of being outdoor adventures about six years ago. She prefers spending her time sewing her own hiking clothes over spending extended amounts of time in adventure store changing rooms foolishly hoping that maybe this time she'll find something that fits her big body. Emily lives on Ngunnawal country (Canberra, Australia) and loves all things pole dancing, aerials, movement, rock climbing, hiking and pretty much anything outdoors!
Do you struggle to find outdoor clothes in your size or shape?
Cath: "I am a size-20 woman who enjoys hiking, Nordic walking, and trail running – and my favourite activity is one-week multi-day ultramarathons. Quality gear is really important for both comfort and safety – but it is really hard to find. My worst experience was a snow-shoeing trip with "all gear provided" where the largest ski jacket available did not zip up – I was left with the humiliating choice of being potentially unsafe or not participating."
Tan: "Yes. In the past week alone I have been into three outdoor adventure stores looking for a long-sleeve shirt in technical fabric for hiking. I probably need a size 22, or 20 if it's a brand that caters to fuller busts. I tried on shirts without success. One brand went up to 3XL – but their sizing was very small. Macpac does have a smaller range of extended sizes and I have bought from them before, their range is limited but at least it exists!"
Emily: "Finding outdoor clothing for women with muscles is almost impossible. Men's clothing allows for muscle, whilst women's clothing typically assumes that your size is based on the presence of soft tissue (eg. fat, breasts) and not muscle. For example, to get tops/jackets that fit muscular shoulders/arms, they're usually massive in the torso. And hiking pants are almost impossible as the sizing assumes that if you have bigger legs, you also have a bigger waist. I'm almost at the point of trialing male clothing in the hope that it fits better."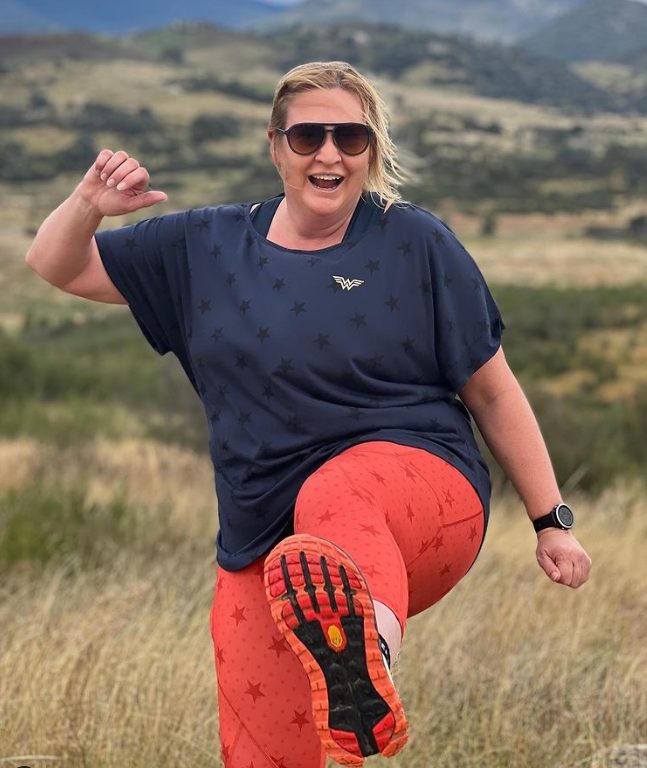 Why do you think this problem exists?
Cath: "It is absolutely about stereotypes. There is a belief that stocking larger sizes would not be profitable because larger women supposedly have no interest in exercise or the outdoors. And it's simply not true."
Tan: "I think… it's complicated! I do think we have an embedded (often invisible) system of thin privilege in our culture. This leads to massive and often incorrect assumptions/core beliefs and opinions about fat people/people in bigger bodies, including a lot of irrational victim blaming.
"How people come to have the size body they have is the product of so many factors. I was training for an 80km walk for months, and eating nutrient-dense food, I was fit and strong, my health indicators were great… but my body size didn't change much. I have a lot of immune issues, and health issues in general, including insomnia, and there's solid research on the importance of sleep for regulating hormones, etc. Body size is complicated despite what the diet industry might have us believe.
"However, despite this, stereotypes exist… like that fat people are lazy or adventure companies might think a larger size range is bad for their brand image. I think commercially, to do extended sizes well, it doesn't just involve upscaling a standard block pattern, so there could be economic reasons (but there's a definite demand, so poor reasoning!"
Emily: "There's a perception that women aren't as muscular as their male counterparts and therefore, clothing isn't designed around this. In particular, society views female muscle as "masculine" and "ugly". There also seems to be a view in the outdoor industry that you have to be skinny to be to participate. For example, to hike, it is assumed that you have a high level of cardio fitness, therefore naively implying that you'll be 'skinny'".
Many women have said this lack of options creates a barrier to the outdoors. Does this fit with your experience?
Cath: "I think the barrier is twofold. Firstly, we are social beings and we want to be included. It is normal to want to avoid experiencing the humiliation of having no suitable clothing or not fitting into the largest wetsuit, jacket, or pack available. The second is representation. Where we don't see people of different shapes and sizes (race and age) in advertising, there is a subconscious assumption that the activity is not 'for people like me'."
Tan: "I'm aware that it's a barrier – not just lack of options, but that belonging to 'outdoor culture' isn't an option for bigger people. It's a chicken and egg thing, maybe.
"I just had to ignore the feelings of 'you don't belong here' first, and then just wore whatever."
Emily: "For me, it hasn't created a barrier to entry. I am fortunate enough to be in a high-income job that allows me to afford more expensive gear. For example, there are very few climbing harnesses that fit a small waist but big legs. There are only a couple of harnesses that fit me properly, both being on the more expensive end of the range.
"I expect that my ability for entry would've been drastically harder without my own privilege. In saying this, I don't have access to the same technical clothing as others, relying on apparel from the fitness industry instead of the outdoor industry."
What are some ways you've managed to get around this?
Cath: "I have had to give up on purchasing retail. There are some good Australian online brand options that I wear all the time like Active Truth (activewear up to size 3X) and Merino Country (merino tops, thermals up to size 26).
"The UK and US markets are more inclusive. And most of my gear (packs, waterproof jacket, wetsuit) are in men's sizes. And now when I go on a trip that claims to provide gear, I either call ahead to confirm the sizing, or bring my own."
Tan: "I learned how to draft patterns and I do sew my clothes, but that's not straightforward because it's hard to source technical fabric in Australia. We have some good merino and Supplex fabrics, but lightweight, woven, 4-way stretch fabrics, with good wicking properties? I've only been able to buy them from overseas, which is expensive.
"I think the availability of extended sizing activewear has increased in recent years… so while I can't buy the hiking trousers/skirts or shirts I would like, I can by general activewear and I'll wear that."
Emily: "Buying clothing from the fitness industry, instead of the outdoor industry. I'm starting to trial male sizing, instead of female sizing."
What advice would you give someone who is just getting started and finding this a challenge?
Cath: "Because of the internet, the world is very interconnected. Look for people online who look like you and who do the activities you enjoy. Some of my best gear finds have been through seeing what others are wearing or using. Also completely ignore gender notations (male/female) on clothing and instead take your measurements and look at measurement charts. It may be that a so-called "men's" item has a much better fit."
Tan: "I am not a huge fan of giving advice to others, but these are things I've told myself that may or may not resonate for others!
Please know that YOU ARE WORTHY, AND YOU BELONG in nature! No one is boss of who's allowed on hiking tracks… so please try to ignore people who think they are!
Follow body-positive "fit and fat" people on social media… because… you can't want you don't see!
Never venture into adventure-type stores unless you're feeling resilient!
No one is focusing on you (and if they are…they need to get a better life!)
You don't need too much equipment to start walking. It doesn't matter what you wear, just be comfortable and start walking! Be safe, join a hiking group or meet up to learn from others if that appeals."
Emily: "Engage with people who are a similar build to you. They often have valuable experience trialing brands and can help you find options that might best fit your body shape. There are some wonderful influencers who speak openly about these issues and can help you face these challenges."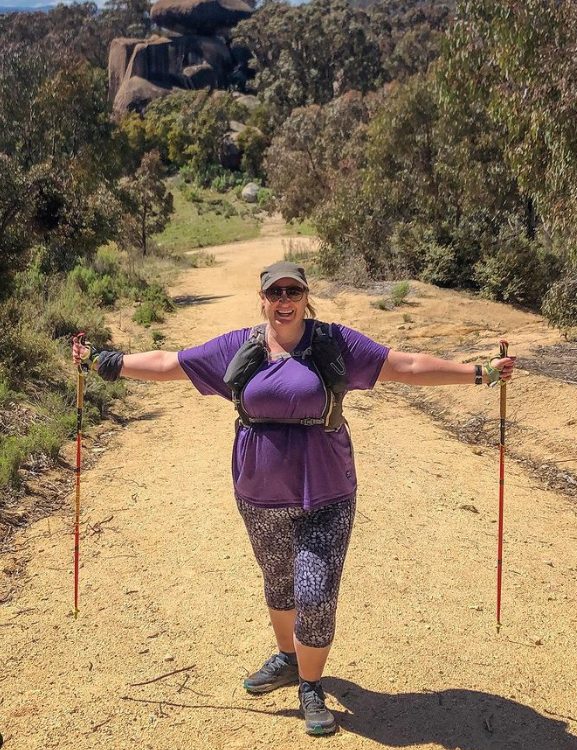 In your view, what are some things we can do to combat this fat prejudice?
Tan: "I think, as with all prejudice, rather than focusing on the 'fat people', focus on yourself. Have an awareness that it's a privilege to walk into a shop, not be judged on your size, and have clothing that's accessible, and be aware that that's not "normal " for everyone.
Also:
Don't make assumptions about ability based on size.
Offer programs that specifically aim to be inclusive – and mention that (and mean it).
Think about your own core beliefs about body size. I think a lot of us were raised thinking "to be fat is a very bad thing", so size becomes a moral issue, food becomes a moral issue. People say: "I won't have that cake, that will make me fat and I'm being 'good'"… that's not an uncommon thing to hear, and the implication is fat people are bad.
I recently did a half marathon, I was walking it, using it as a training hike. I noticed how often I got the clap and encouraged "good for you, well done, you've got this". Which is awesome, and kind, except… I felt like the thinner people on the course didn't get the same "special attention " or as much encouragement, because "obviously" they had trained harder/had no need for being told they've 'got this' – because of the ingrained belief complicating thinness with fitness.
Be aware that being thinner comes with advantages, be compassionate, not judgmental.
Also, a person who generally fits into mainstream sizing "relating" because they have big thighs/boobs whatever? The situation is relatable, but the experience of prejudice and shaming and exclusion is not. It's not a comparable situation.  
Anything else you want to say?
Cath: "It is time for outdoor brands and outdoor stores to stop relying on stereotypes and do current research on their market. I am confident that there is a profitable market for a wider range of outdoor gear and the first to embrace it will be the one that benefits."
Tan: "Thank you again for taking the time out of your day to help us, and hopefully help other people like yourself who are sick of the prejudice!"
These comments are generalisations based on my experience of being "me-sized". People that are larger than the "extended sizing" ranges would have a different experience and I'm aware "my voice " doesn't represent all people who can't buy decent hiking gear that fits.
When I got my head around moving and eating to feel well, rather than to be a certain size/lose weight, that was a brilliant shift in my headspace. Moving my body is about joy, not punishment! (Well, not all my training sessions are joyful, I'm talking end-game joy!) If you want training support, find someone who is genuinely inclusive.
Emily: "The outdoors already present countless barriers for women, people of colour, and the working class, etc. The lack of diversity in outdoor apparel encourages this. I believe being more size/shape inclusive is a simple step to drive diversity and access to the outdoor industry."