My mother told me: put your shoes on, stay on the path and be home before dark. Turns out all of those rules are for breaking.
Today me and my girlfriends wondered if we could get from where our path ended high up on a rocky viewpoint down the untracked spur to intersect with a known path about a kilometre away. We thought it might be possible.
As so often happens in our urban bushland, we met three other walkers coming towards us and asked them if there was a route. They looked us up and down. I could almost see them wondering if it was safe to share their secrets with us. Fortunately, they decided we passed the bushwalker competence code (what gave us away?).
Yes, they'd done it. "Stay right at the cliff line, there is a footpad that comes and goes, but generally runs to the left of the ridge. Look out for the occasional rock cairn."
So we boldly stepped off the edge, beyond the safety of the civilised track, into a forest of grass trees littered with huge rocks.
As we did this, it got me thinking about off-track walking, the benefits of venturing beyond our comfortable trail.
Too often we plod along, one foot after the other, chatting cheerfully but observing little of our surroundings. But a curious thing happens when you push the boundaries of the formed path and go off track. You slow down, all your senses are engaged and the grey matter in your brain wakes up.
Suddenly we notice the scratchy hakea and the grass tree fronds determined to poke us in the eyes. We are mindful of the topography, trying to pick the best line of descent down the slope. We want to avoid the drop off into that gully – the rocks are slippery and the choked vegetation hard to penetrate. Noses twitch, ears alert for rustles in the undergrowth.
There's an intellectual challenge in finding our way too. We look ahead for a landmark, take note of the position of the sun, and trust those T-cells that we are all born with and which fire our sense of direction.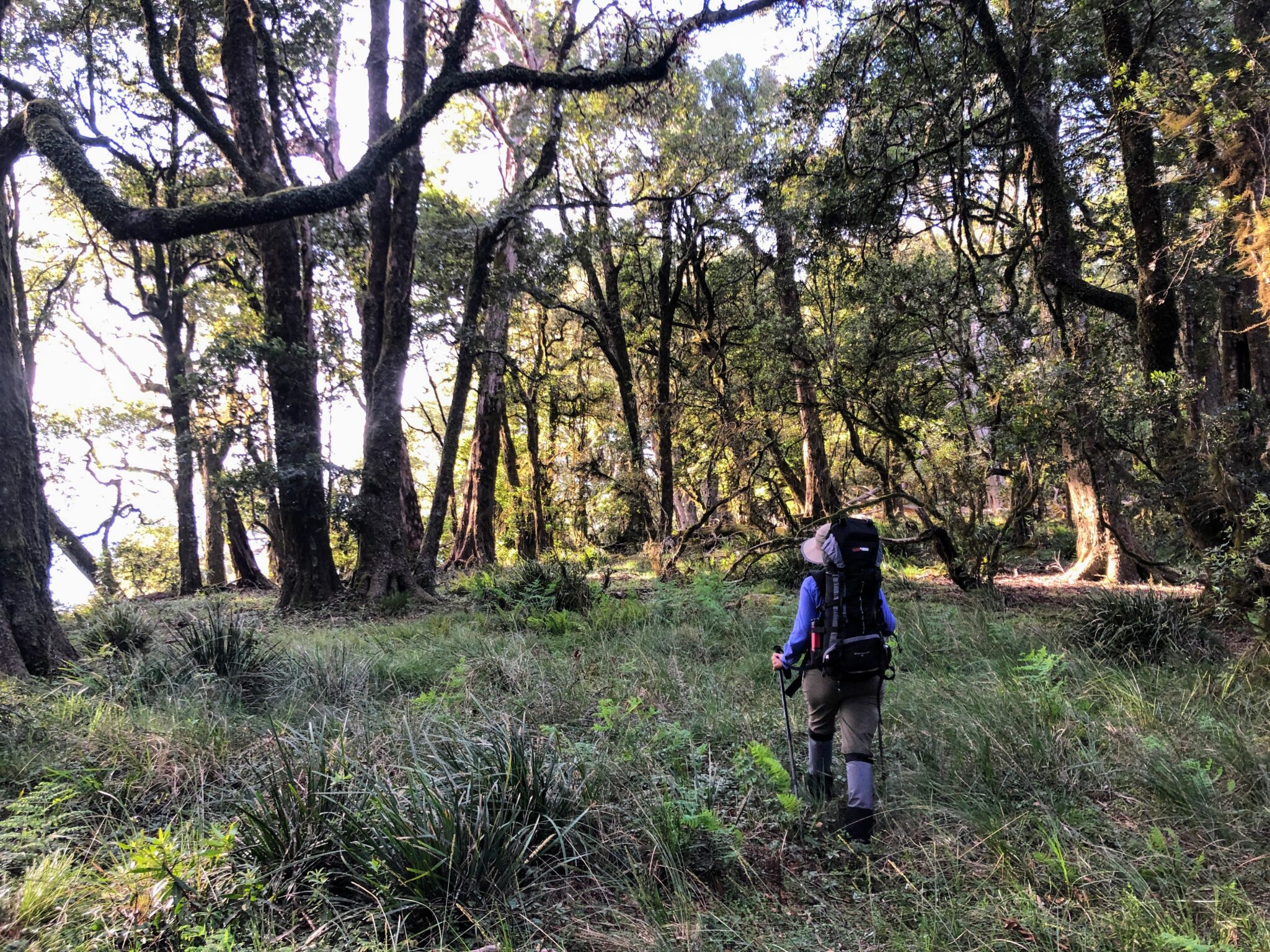 Not all who wander are lost, some of us are just out exploring. There is exhilaration all round when our group successfully pops out the bush onto a defined track in the valley below. We did it! Woohoo!
For some, off track walking is way out of their comfort zone. It's hard to let go of the deeply ingrained instruction to stay on the path. We might get lost. What about snakes and ticks? I may damage the environment. My mother told me not to.
But the rewards of off track walking include a sense of freedom and joy, the child-like wonder and excitement that comes from accepting risk and challenge. Living in the moment, testing each foot placement and handhold, you will notice more of the natural world around you. All that plus scratches!
Tips for off track walking
Tell someone where you are going. Go with a leader who has experience with off track walking, and learn from them.
Learn compass and map skills, and how to read the landscape. Take a navigation course. Go orienteering and rogaining to practise and improve your skills.
Treat the environment with respect, avoiding fragile areas and choosing rock platforms and paths where available. Make sure you are not trespassing and respect any signs to stay on the trail.
Take your time to find the easy way – which may not be the direct route. Don't go down something you can't get back up, and vice versa. Take your pack off if necessary for any rock scrambles. Develop a sense of how fast you are moving – this may be as slow as 250m in an hour. Off track walking is tiring.
A GPS tracker is useful to mark waypoints and enables you to retrace your route if necessary. If you lay any markers, such as pink tape or cairns, remove them afterwards.
Off track walking demands more agility and balance due to the uneven terrain. Walking poles can be both useful and a distraction. Wear long trousers, long sleeves, glasses and gloves to protect yourself.
You will need a sense of humour, and compassion for your companions who are sure to question their trust in you at some point.
Do you really know where you are going? 
Need some hiking and tracking essentials now? Check out this blog: Hiking Gift Guide For Wild Women.