Doris Day once said: "I have found that when you are deeply troubled, there are things you get from the silent devoted companionship of a dog that you can get from no other source."
I agree with Doris, and what better way to repay our pooches for their unconditional love than with a spectacular coastal walk? We are blessed with many walks around Australia, from mountains, to red dirt, to the hinterland, and everything in between. Although, as we celebrate coastal walks here at Coastrek, I've kept close to the water's edge, either in the region of our Coastrek route or the closest major city. There are many other options – but here are a few treats for you to work into your training routine…
Housekeeping: Always carry poop bags (no motion in the ocean as they say!). Always carry water and a water bowl for your doggo!
Sydney Dog-Friendly Walks
Eastern Suburbs: Federation Cliff Walk (with a sprig of parsley).
This stunning walk starts at Dover Heights – best accessed from Raleigh Park – and crisscrosses the Sydney Coastrek 2022 route. You'll jut in and out of streets as the track leaves the cliff side, but for the most part, it's true to its name. Pass through Christison Park and you'll find Lighthouse Reserve – a lovely off-leash area just past the iconic Macquarie Lighthouse.
Once you get to The Gap Park there are no dogs allowed. You can either take Old South Head Road up to Watson's Bay or take the route less traveled through the suburban streets of Vaucluse (I suggest Hopetoun Ave and The Crescent). From there you can weave your way down to one of the prettiest bridges in Sydney, Parsley Bay Bridge. This walk is great for hill work, steps, and stunning views. If you want to introduce some sand you could take a detour to Kutti Beach, but the pooch will need to stay on a leash.
Distance: Approx. 11km out and back.
On or off leash: On leash most of the way with an off-leash option at Lighthouse Reserve.
South: Greenhills Dog-Friendly Beach to Shelly Park
Greenhills Beach is the only dog-friendly ocean beach in Sydney, making it a perfect option for dog-friendly walks. It's a great place for the pups who love the water, and for owners looking for some soft sand training. Beach access is restricted to before 10 am or after 4 pm, seven days a week. While it's a popular spot, there is enough room for everyone and it's great to see your dogs roam free. There is also a lovely on-leash walking track from Greenhills Beach to Shelly Park and back that takes about 1.5 hours. Or you can continue around the headland if you're trying to get some kilometers under your belt.
Distance: Approx. 8km out and back – longer if you're up for it!
On or off leash: Off leash in the designated beach section, on leash elsewhere.
Northern Beaches: Manly to Collaroy Coastal Walk
In its entirety, this is a spectacular coast-hugging 11km point-to-point walk. However, I'm focusing on the section from Curl Curl to Dee Why because of its dog-friendliness. I suggest accessing the track behind North Curl Curl SLSC and you'll soon be enjoying a mix of Australian flora and interestingly, some terrain that feels a lot like Hawaii!
You'll enjoy spectacular views from the trail through to Dee Why Beach, which is a great spot for coffee and to re-fuel before the return trip. Once you're back at Curl Curl, a great treat for the dogs – and your feet – is a paddle in the dog-friendly Curl Curl Lagoon before drying off in the adjacent off-leash Flora and Ritchie Roberts Reserve.
Distance: Approx. 10km out and back.
On or off leash: On leash along the trail with an off-leash swim at the end.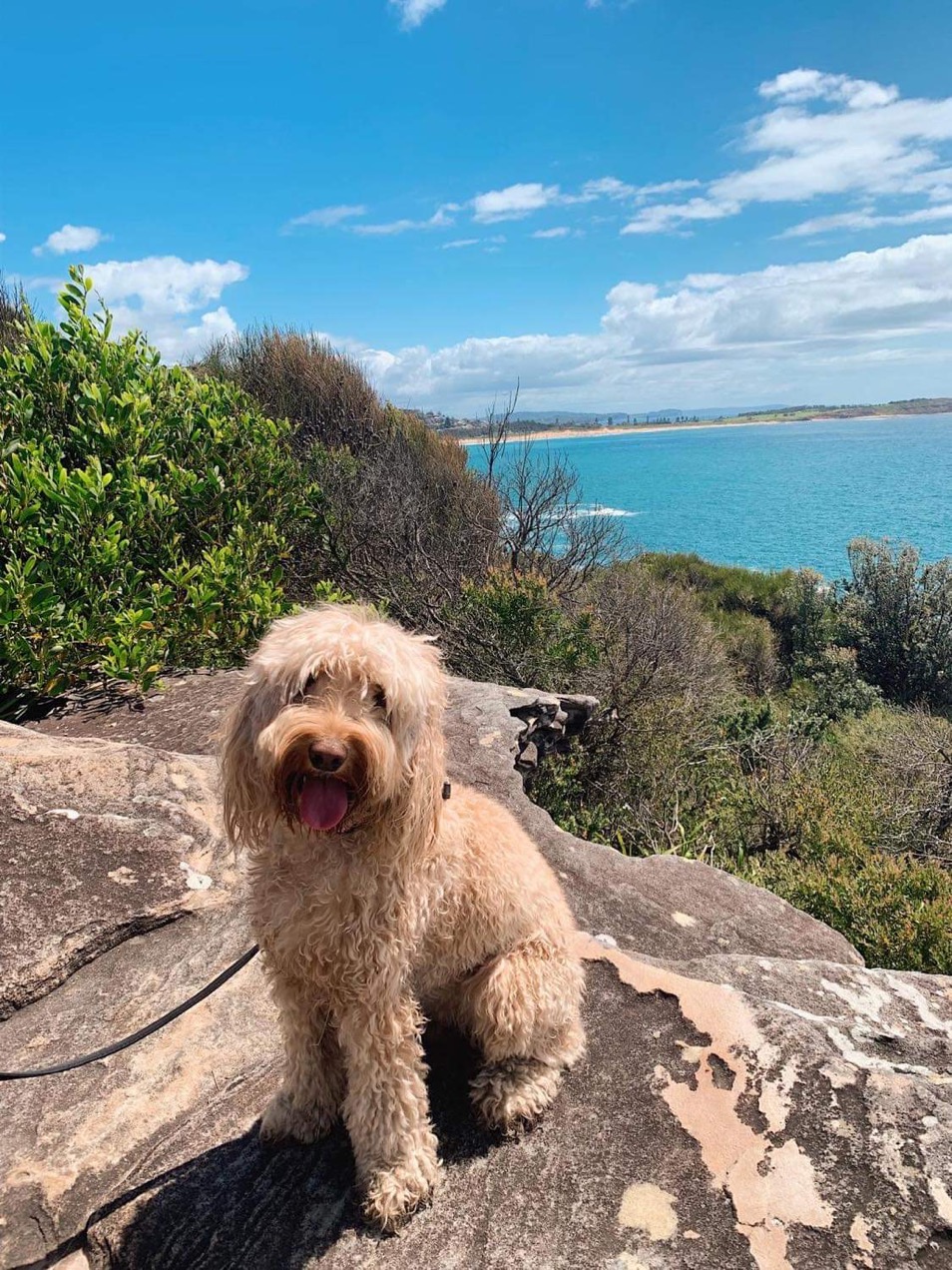 Brisbane And Sunshine Coast Dog-Friendly Walks
Brisbane: Mount Coot-Tha Loop
Here's one of our dog-friendly walks that proves to be a great loop for exercise near the city that makes you feel like you're in the country. There are some steep rocky sections at the beginning of the loop that gets your heart rate elevated, but the track flattens out for easier walking and once you're at the top of Mt Coot-Tha you get some excellent views stretching out over Brisbane. Sections of the trail are busy with hikers and bikers but there are ample moments of solitude as well.
Distance: Approx. 10km.
On or off leash: Dogs must be on leash.
Bribie Island: The Taranggeer and S.S. Koopa Trails
If you want to head out of the city, just an hour and a half north of Brisbane on Bribie Island, the Taranggeer and S.S. Koopa trails offer a 10km out-and-back trail along the Pumistone Passage waterway. The shared-use pathway starts at Sunset Park and finishes at Brennan Park with plenty of cafes, shops, and interesting facts about the island's history along the way. I recommend heading down First Ave at the end of your walk to Woorim Beach for the off-leash section at the southern end to cool off with your pup.
Distance: Approx 11km if you include the dog beach.
On or off leash: Dogs on leash whilst on the trail. Off leash at the dog beach.
Sunshine Coast: Point Cartwright Nature Walks
A chance to sample some of the glorious Coastrek trails, here are some dog-friendly walks for you and your companion. Flanked on one side with the ocean and Mooloolah River on the other, Point Cartwright offers two different walks: The Lighthouse and the Bush Track.
From La Balsa carpark, take a stroll up to the Unity Water Reservoir with its striking mural of birds and sea life to reach the Point Cartwright Lighthouse. From here you'll enjoy the most exceptional ocean views (and whale watching between July and November) plus several picnic spots on the grassed area.
Alternatively, for the bush track, take the stairs leading down through the bush for La Balsa Park's walking paths that run along the fringes of the Mooloolah River and around the headland back to the Lighthouse. This area is also an off-leash doggie area, but please note there are time restrictions so be sure to check the signage.
Distance: Each walk is around 2-3km with options to explore further.
On or off leash: On leash on trails, off leash at designated times.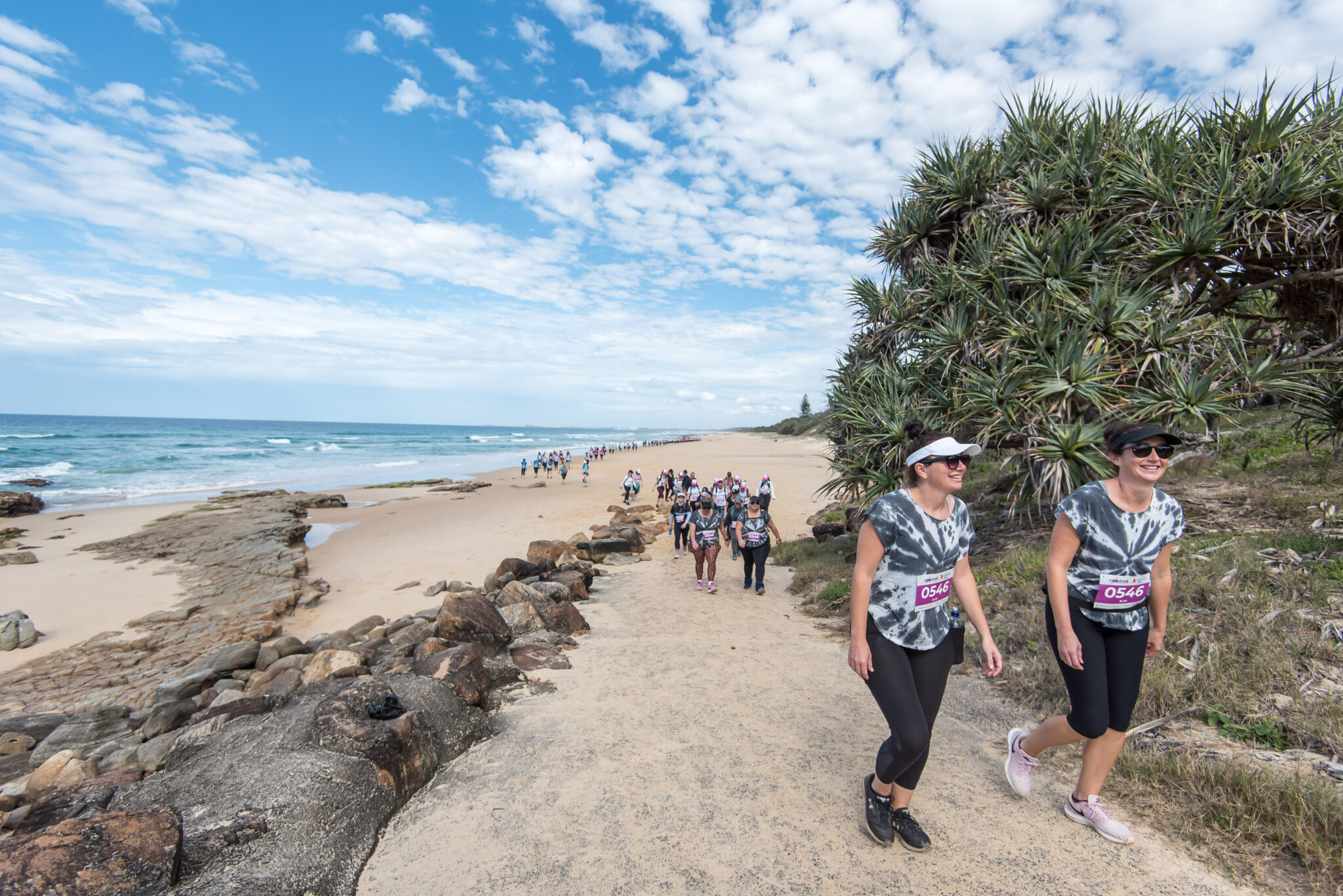 Melbourne And Mornington Peninsula Dog-Friendly Walks
Melbourne: Port Melbourne to Brighton Dog Beach
The Bay Trail from Port Melbourne extends for 16km along the waterside to Sandringham – but if you and your pooch need a slightly smaller workout, end at Brighton Dog Beach (also known as Sandown Street Beach) for a frolic in the dunes.
Dogs are allowed off-leash at all times from 1 April to 31 October while between November to March it's off leash for dogs only before 10 am and after 7:30 pm. Venture a little further on for a visit to Brighton Beach's iconic, colourful, Victorian-era bathing boxes.
Distance: Approx. 10.5km to dog beach and around 11.5km to bathing boxes.
On or off leash: On leash on the Bay Trail and off leash at designated times on the beach.
Melbourne: Yarra Bend Park Loop
While only 4km northeast of the CBD, this trail still allows you to escape the hustle and bustle of the city amongst Melbourne's largest natural bushland. Start and end this 9.5km loop at Fairfield Boathouse and head along the banks of the Yarra. You can fully immerse in nature amongst native bushland and wildlife including rainbow lorikeets, yellow-tailed black cockatoos, brush-tail and ringtail possums.
Deep Rock swimming hole is a picturesque highlight – there are stone steps to access the water, but it can be tricky for smaller dogs. There's an off-leash area nearby for dogs with good recall!
Distance: 9.5km loop.
On or off leash: On leash on trail, options for off leash depending on dog.
Mornington Peninsula: McCrae Beach Walk
Discover the Mornington Peninsula's raw beauty with a walk that mixes rustic foreshore greenery with steep inclines and declines, all while taking in the stunning views of Port Phillip Bay. Following the Bay Trail, this walk begins at the McCrae Lighthouse; a Mornington Peninsula favourite.
Crossing Point Nepean Road, you will find yourself at the bottom of the Eyrie steps. It's a very steep climb, but don't worry – there is a seat halfway up where you can take in the lovely views of the bay. Down the hill you'll reach LaTrobe Reserve Scenic Walkway and Link, enjoying the delightful views of the bay through the gaps in the trees as you make your way down and back to McCrae Beach.
Note: During daylight savings dogs are not permitted on the beach between 7 am and 7 pm. However, outside these times, dogs are permitted on a lead at any time of the day as well as in the leash-free section at all times. A great choice for some hills training and exploring further afield on the Peninsula.
Distance: Approx. 5km.
On or off leash: On leash with off leash options on the beach at designated times.
Adelaide And Fleurieu Peninsula Dog-Friendly Walks
Marion Coastal Walking Track: Hallet Cove
This 14.5km scenic out-and-back route begins and ends at the Boatshed Café at Hallet Cove. From here you'll head north along the Coastal Walking Trail up to Brighton, passing several beautiful lookout spots and beaches along the way. With a paved pathway most of the way you'll share the route with bike riders and other walkers, but there are plenty of trails to walk as well. On return to Hallet Cove beach, you can let the dogs have a paddle in the off-leash area at the southern end while you enjoy views of the headlands.
Distance: Approx. 14.5km.
On or off leash: On leash with off leash options on the beach.
Adelaide: Foreshore walk from Grange Beach to West Beach
I've chosen this section of the foreshore walk because it includes West Beach off-leash dog beach located near the boat ramp – there's no restrictions on when you can access it but just be sure to stay in the designated area. This is a gorgeous coastal walk along Henley Beach. This walk takes in the endless stretch of sandy beaches and crisp blue waters of St Vincents Gulf. It's lovely during the day but I highly recommend an evening walk as Grange Beach is known for its spectacular sunsets.
Distance: Approx. 14 km out and back.
On or off leash: On leash on the foreshore walk, off leash at West Beach.
Fleurieu Peninsula: The Bluff, Encounter Bay to Goolwa
You'll be pleased to know much of our Coastrek route on the Fleurieu Peninsula is dog friendly – around 35km in fact, from The Bluff at Encounter Bay through to Victor Harbor, Middleton, and Goolwa where you can end with a free run on the off-leash dog beach. Known as the Encounter Bikeway, it is a shared path and a favourite for serious and novice walkers.
There are also several side paths to explore for you and your pooch including the Hindmarsh River Walk. A 6.3km loop leaving from the Bridge Terrace begins at the ocean and follows the Hindmarsh River upstream.
Distance: Approx. 35km but can be done in shorter sections.
On or off leash: On leash on the Bikeway and Hindmarsh River loop, off leash at Goolwa Beach.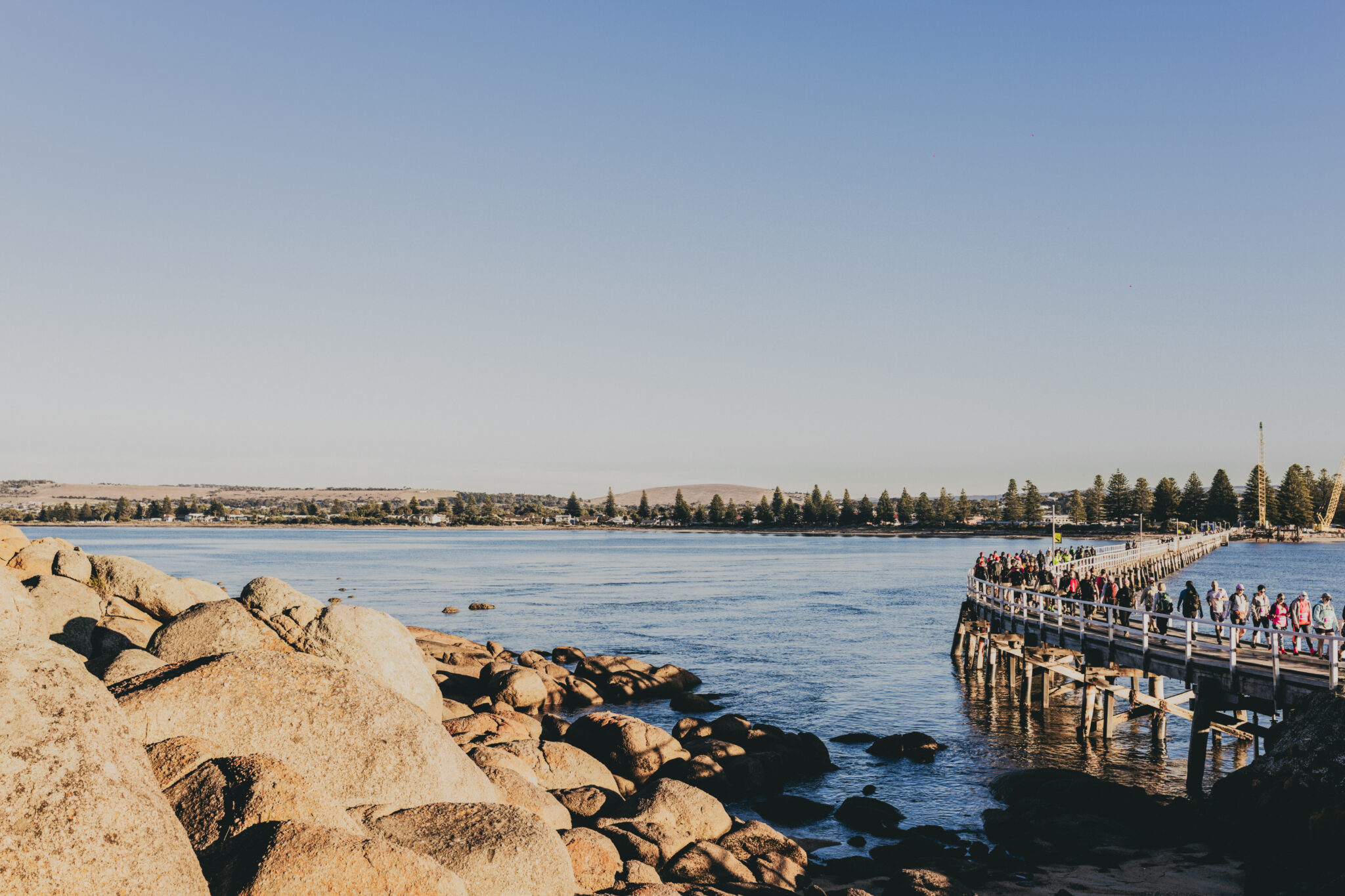 Perth And Margaret River Dog-Friendly Walks
Perth: Bold Park Walking Trails
Bold Park is around a 20-minute drive from Perth CBD and offers a huge area of bushland that features over 15km worth of dog-friendly walks and trails including the Zamia Trail, a 5.1km on-leash loop trail featuring amazing views of both the city and the ocean along the way. Access to the Zamia Trail is via The Reabold Hill carpark on Scenic Drive.
Distance: Approx. 15km but can be done in shorter sections.
On or off leash: On leash in the Zamia Trail.
Dwellingup: Lane Poole Reserve
If you're wanting to make a full day of it or even overnight, Lane Poole Reserve in Dwellingup is about an hour and a half south of Perth in the Murray River Valley. The popular 9km Jarrah Track is great for dogs – and humans – where you can plunge into the river for a swim. Plus, you can camp with your pooch if you're keen to stay the night.
Margaret River: Geographe Path
While much of our Margaret River Coastrek route is off-limits to dogs, there are still plenty of dog-friendly walks to explore in the region. The Geographe Path is a paved walking trail along the foreshore that stretches 23km from Busselton to Dunsborough. It's a serious walk in its entirety, however shorter jaunts are possible. Beaches on Dunsborough Foreshore are dog friendly, as is the spectacular nearby Bunker Bay or if you choose to concentrate on the Busselton end, the beach is dog friendly as is the 4.5km Bush Loop in West Busselton.
Distance: Approx. 23km.
On or off leash: On leash on walking trails, off leash at dog beaches.