This post was first published in 2017.
My mum has spent 57 years trying to turn me into a lady.
When I was little, she frocked me up in pretty party dresses and told me to "cross my legs like a lady". In my six-year-old mind, this seemed ridiculous. Why wear something you can't have fun in? So, I refused to wear dresses, except ones with built-in frilly panties that allowed me to do handstands, straddles and high kicks without being noticeably unladylike.
But my mum didn't give up.
When I was 12, I was allowed to have friends over as long as we "played nicely". But we quickly grew bored of Barbie doll dress ups. Instead we pulled an old water tank off the roof of shed, lined it with pillows and lay inside it. Then we rolled each other around the backyard, giggling, until we were so dizzy we couldn't stand up.
Mum was happy we were out of the house, but she might have preferred me to be having tea parties in the cubby.
In my teens I longed to fit in. I plucked my eyebrows, hot waxed the hair from my legs and fought endlessly with my mum over the length of my school uniform – mini's so short you could practically see your undies were 'in' so my cartwheeling had to be out.
In my twenties I suddenly got huge boobs, which made me awkward and self-conscious. Elegant and ladylike just didn't fit with me at all. I preferred comfort and practicality, which meant leggings and leotards most of the time.
When I had kids, my daughter complained that I didn't look like the other Mums with their chic outfits and acrylic nails. But I was so frazzled and tired that most days all I could manage was shorts and a singlet, let alone hair and make-up.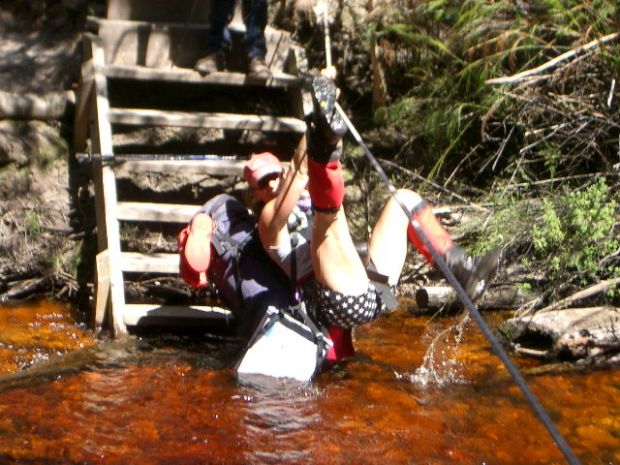 I'm still not a 'lady', or at least not the kind my Mum and daughter hoped for. My nails are mangled from rock climbing, there's no time for hair-styling, jewelry or make-up, mani-pedis and high heels are out, and my leg hair sometimes (often!) gets a little long.
But the difference is now I don't give a shit. Forget ageing gracefully… I'm happy to age disgracefully so there's more time for adventure. Six-year-old me is still inside this 57-year-old body saying: 'What's the point of doing THAT if it means I can't have fun?'
Among my friends, I've noticed distinct shift towards aging 'disgracefully', as women realise they no longer have to adhere to past expectations that have disempowered them their whole lives. Gone are the days where a 50-something woman lived in a retirement village playing bridge, knitting and pestering her children about when the grandkids are coming. Middle age is no longer the beginning of the end; it's the beginning of Act 2. As Tracey Spicer said in an interview with Stellar Magazine last year: "I'm turning 50 so I'll do what I bloody well want."
Here's the thing about ageing… it gives you a new perspective, the confidence to say NO to society's expectations. Who says I can't wear short shorts at 57? Who says I must colour my nails? Who says I can't scramble over fences, go upside down, run up the down escalator and climb trees? Who says I have to be dignified and obedient?
I love a good cuppa in my bone china mug, but I'm not about to sip it sitting on the couch while crocheting socks for my future grandkids. I'll have it on a mountain top, thank you very much.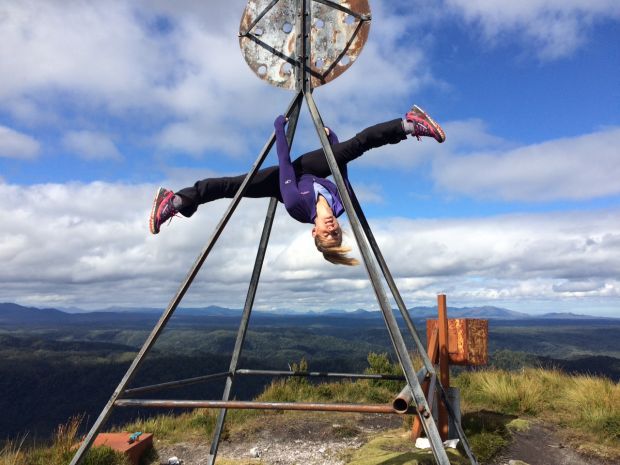 If being disgraceful means being 'shockingly unacceptable', then I'm in. Be shocked when I lick the plate after dinner. Be shocked when I do cartwheels in my bikini at the beach. Be shocked when I climb the fence which says 'DO NOT CLIMB'. I'm cool with it.
It doesn't mean I don't sometimes feel a hundred years old, my face isn't wrinkled and my hair isn't greying. But it does mean I choose to spend more time moving than grooming. I refuse to accept that being in your fifties means slowing down and sizing up. I'm in my prime!
I've seen hundreds of women unleash themselves at 50. Once the kids leave the nest, they smell freedom. Things like health, travel and adventure take centerstage once more. They're not suffering from "invisible women syndrome", because they're too busy leaping outside their comfort zone by trekking to Everest Base Camp or Machu Picchu, hiking 60km or abseiling off a cliff.
Last year I went to Patagonia with a team of 12 women aged 50-65. We hiked 18-22km a day for two weeks on a remote, committing, undulating circuit in torrential rain and winds that could literally blow you off your feet. It was bloody brilliant.
These women are not resigning themselves to wearing beige, knee-length skirts, stockings and nude lipstick. They're not sitting down and shutting up. They're stepping into life, their bodies, their feminine power and strength. They're saying: "You think I can't do this? Watch me."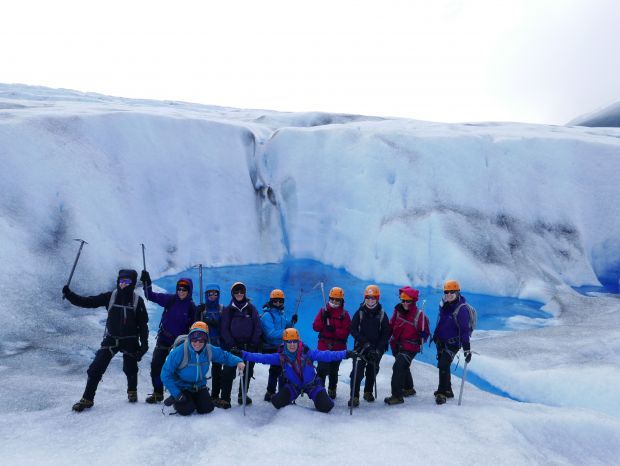 Age is less about number of years on the planet and more about lifestyle than ever before. More and more research proves that it's lifestyle that's killing us rather than age. Mud masks and manicures may beautify the outside, but what keeps you young is daily movement inspired by an adventurous spirit. And an attitude that says "why the hell not?"
If you keep moving and worry less about what you look like and more about how you feel, your body will be happier and healthier as the years progress. And what's more graceful than that?
So if you're feeling old, or invisible, or just a little bit flat, climb a tree. Seriously. Break a rule. Roll down a hill. Climb a mountain. Do something adventurous, something your six-year old self would do.
Because it's one thing to get older, and quite another to turn into a lady.